Every wedding will have a mishap, whether it's a slight one or a major one, it is bound to happen. This is something I had to realize early on, but I am so glad I did because we had some big ones. Looking back, some of these things really make me laugh, and having them as apart of our memories is actually quite nice. Dave and I aren't a very traditional couple, and as I've mentioned we wanted a fun wedding, some of these bloopers sure did help with that.
Some people could probably say that our entire reception was a blooper, which could be the case if you're afraid of some raindrops, but thankfully our friends and family are awesome. We enjoyed every minute of the 1.5ish hours we had on the dance floor that was outside, and then moved our dancing feet under the tent, in the mud, to keep the party going until well into the night. Here are some of my favorite bloopers/mishaps gone right from the day.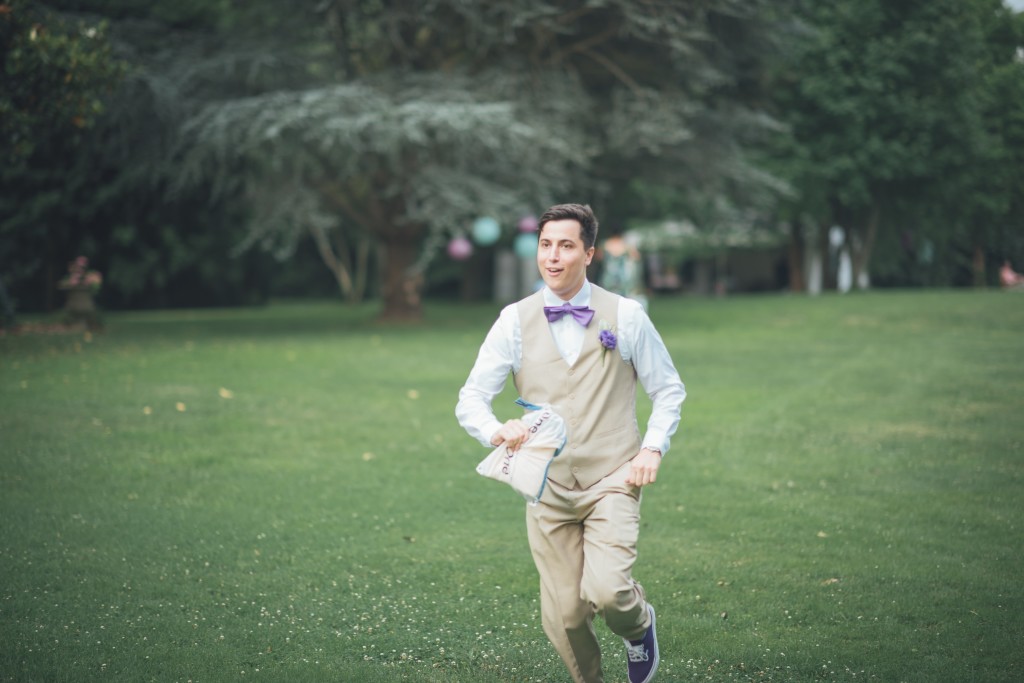 After our ceremony, the bridal party, our immediate family and the two of us, went to the front of the property to take some formal photos. I made sure I had my shoes with me to change into out of my heels. In the mix of things, I forgot to put them on until after the family photos and the photos of the two of us. When we were finished I found the bridal party and asked for my shoes, somebody had taken them and we had no idea who. One of our groomsmen ran around the reception space looking for them and then finally located them and sprinted them back to us. He totaled saved the day because it felt like my feet were going to fall off.
One of our guests owns a water sports company, so he is very well versed when it comes to weather situations. All through the night he would update me on when the storm was coming. He even spread the news to somebody to wait a few minutes to start the ceremony because a sprinkle of rain was going to start. He was right! It rained for all of 5 minutes and then the ceremony began. I was so appreciative of him throughout the night, especially when it was about to storm and we were still on the outside dance floor. Word of advice: always invite a "weatherman" to your outdoor wedding
When the rain started, people started busting out their umbrellas. I think the bars being open before the ceremony may have been to blame for this one, but generally lighting and metal umbrellas don't mix very well. The DJ had to announce it a few times that we should probably move the party into the tent. It took a bit of time for some of the guests to understand 😉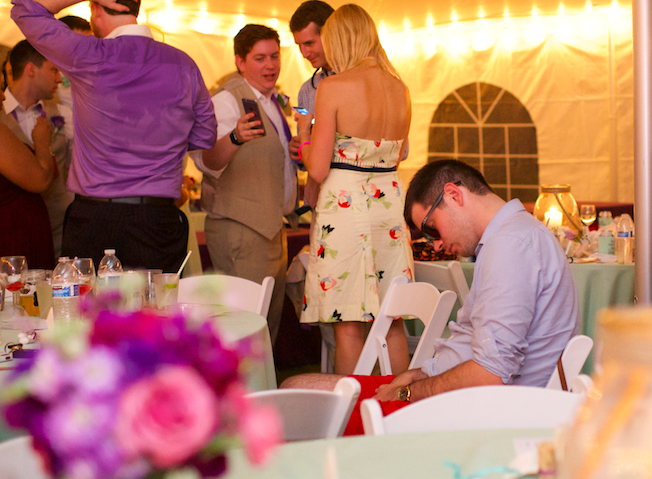 One of my best friends, boyfriends, was one of the ones enjoying beverages in the sun before the ceremony. He passed out before the move into the tent, so when the tables and chairs were moved from all around him, and he was caught sleeping in his chair, we needed a photo. I will never let him live that down.
The biggest 'blooper' of the night had to be the shuttle getting stuck. Our wedding was at a private residence turned wedding venue, which meant that not all of the "driveway" was paved. We had mentioned to the shuttle driver that he could park at the front of the property by the house if the rain started, but he hadn't been paying attention or something. About 3 hours into the reception, I somehow heard about the shuttle being stuck. I figured they would figure it out. Well come to find out, the tow truck that came to get it also got stuck, and then another tow truck broke trying to get it out. Most of our guests needed to be shuttled back to the hotel, so my wonderful in-laws shuttled people from after 11pm until almost 2am. If something like this would happen, I should have known it would be to us 😉 Thankfully, even though the shuttle was also our ride back home, we were able to have my grandparents car. The shuttle ended up remaining in the same location until TUESDAY!
I had paper umbrellas for photo props for the bridesmaids, we ended up not using them so I asked the bridesmaids to set them aside for us to take home. At some point during the evening, somebody got them out and the bridesmaids were using them as actual umbrellas. When they came back into the tent, the dye from the paper had dripped down their faces- at least they matched the theme 😉

While some of these may not make it to America's Funniest Home Videos, I am happy to remember the things that may have not went 110% to plan. It's a nice reminder that things can go wrong, but still turn into something to chuckle at every now and then.
---
Now it's your turn! Join me and Nikki from Make.up.Her for the wedding Wednesday link-up! Share your wedding stories, tips and tricks, or anything in-between. We can't wait to hear from you!