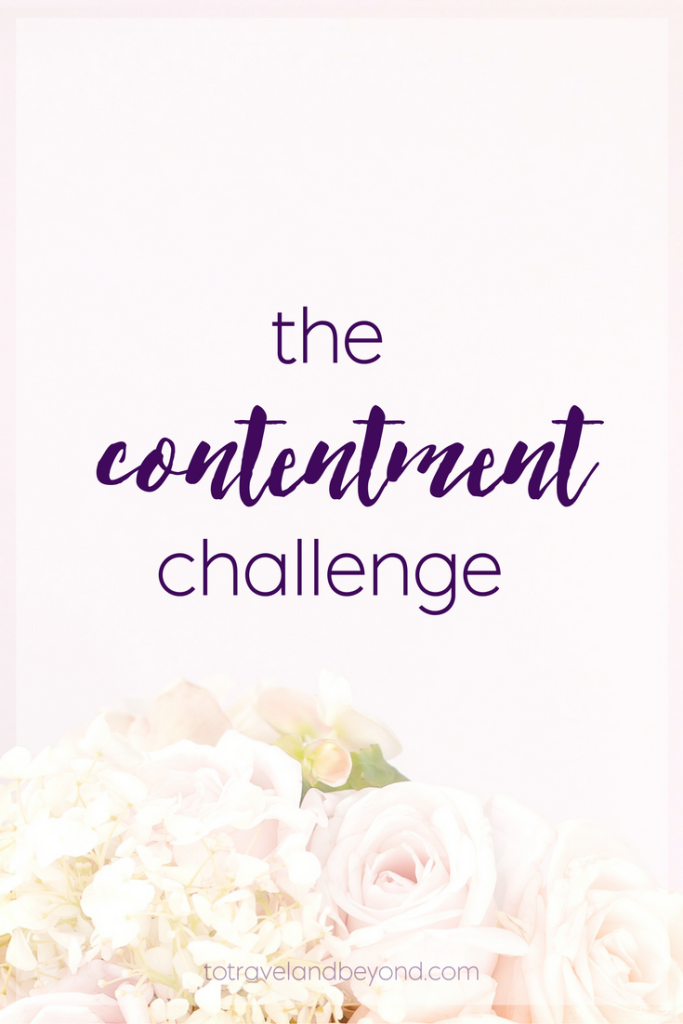 The Contentment Challenge is a lifestyle challenge adapted by Kat Schmoyer and originally created by Nancy Ray. If you would like to read more about the challenge, check out her post here. This challenge is meant to help you save money and focus on the things you have rather than the things you want. To me, this is a huge need in my life. With the plans we have for 2017 and the future, recognizing minimalism and budgeting is a necessity, and I hope to follow this challenge to help me realize that.
The Contentment Challenge will follow a monthly theme, and you have the opportunity to set goals within those given themes. For now I am going to highlight the first three months of prompts (which is also what Kat is doing!) The first three themes are gratitude, generosity and freedom. In January, I would like to take a step back and look at everything in life that we have. I will be working on a gratitude journal throughout the month, and will recap at the end of the 31 days, as well as outline my plans for the February theme.
Because I like to think and act like a planner, I am going to follow this challenge fairly similarly to Kat. I will have monthly goals for myself and also strive to find my own successes to follow the theme itself. The following are my guidelines for the first three months, and I will reevaluate at the end of March.
The guidelines:
1- Less spending on unnecessary travels. While this is huge because traveling is now such a large part of our lives, I want to limit what we spend on traveling alone. This can be done by using reward points, hotel nights, and being more conscious of spending on food/drinks while traveling. I would like to achieve this by setting a final price for all of our travel in 2017 and working from that budget. While I will not be sharing the total cost here, I will still be checking in on our progress.
2- NO purchasing clothes. I have an overflowing closet and clothes are something I do not need. While Target will soon be bringing out the adorable summer clothes, I must refrain and be grateful for what I already have. I hope this guideline teaches me to not only spend less on unnecessary clothing, but to also play around with my wardrobe more.
3- Only go to dinner 5 times per month. We eat out far too often, which is a big expense that is hard to realize. We need to grocery shop, meal plan and get into the habit of eating in our own house. January is a low-key month for us, so this is the perfect time to break this habit. This guideline is from any restaurant where we don't have a gift card. Chick-fil-a, Panera, sushi, etc. Eating out is limited to 5 times between breakfast, lunch and dinner. The only exception to this is when we are traveling (see guideline #1)- we currently have only one trip planned which is in March, but may go somewhere for my birthday in February.
4- Four coffees from Starbucks or other coffee shops per month. I have thankfully had gift cards for Starbucks and when the Ravens win, Dunkin Donuts is free, but I always seem to buy something else while I am there. I need to limit myself to a total of 4 coffees from outside places. Both my home and office have a Keruig, I need to use that and only that for the most part.
5- Discuss all purchases. Dave and I trust each other, we don't run every single purchase by each other because we both work hard to earn for our family, but discussing all purchases may help us see more of what we actually need rather than what we want. Even something as small as a new light bulb, we are going to talk about it. We will also keep track of our purchases in order to visualize where our money is going.
6- Spend time intentionally. When I am stressed I normally shut down. I waste my time by watching TV, scrolling social media, or just sitting around because I can't take anymore. I want to remove that waste from my life and think more about what I am spending my time on. Time is a gift.
The Goals:
1-Read 5 books that align with my beliefs and goals. Starting with finishing The Best Yes. These books must be books I own, books that are gifted, or books that are borrowed.
2- Start a Prayer journal. To go along with the gratitude journal I will be starting in January, I want to keep track of prayers in that same book. I have learned that it is important to pray specific prayers and to be able to look back on what God has done in your life.
3- Find a volunteer program to join. I have looked several times before but I think I am being too specific on how I want to volunteer and have not taken the time to pray about where I am needed. I would love to find a program with babies suffering from their mothers addiction, but I will be happy whenever I am led.
4- Make a budget plan and stick with it. Once we are able to sit down and take a look at our finances, I want to make a comprehensive budget to see where our money goes each month, we should be able to reevaluate what a worth the money and where we can save instead.
5- Intentional lunches. I want to start spending my lunch break doing something productive to benefit 1 of three verticals- my relationship with God, my business, or myself. My original goal is to do this 3 times a week. No more working through lunch, watching tv during lunch, etc.
I will be adding guidelines and goals to this list as the months go on, so check back!
If you decide to participate in The Contentment Challenge, let me know! I think it will be a great way to hold each other accountable and achieve our goals.