Do you remember when I mentioned my blog binder and the printout's I use to keep my blog organized? Well now I am back to tell you how I virtually keep it organized by using Trello for blogging. I may be crazy for using both methods, but I am a planner…I can't help it! I use all of the pages in my binder still, but then I like to transfer some of it to this online tool as well. It's nice to have it always accessible via my phone when my binder isn't around.
I am going to be totally honest, I started using Trello a year ago for work and I could use some choice words to explain those shenanigans. I really didn't enjoy the product and now that I use it for my blog, I have come to realize three reasons why I couldn't stand it. Having 10 different boards with 20 different people was overwhelming. Having all of these boards was obviously a necessity because who wants a list with 187 tasks on it? Trello was also added as basically a 7th form of communication within the company, we have email, Slack, regular meetings, Google Hangouts, GChat, and more. Did we really need something else? The third thing I noticed is that since I am very hands-on and organized, having several people contributing to a single board meant things were organized by someone else. While I now have the hang of how things are organized, it took me a bit because I would have organized it differently myself. It was a learning curve for months.
I never gave this product a second chance until I watched a webinar by Katelyn James sharing how she uses Trello and my eyes were opened. Having only a few people working on a board for a specific purpose seemed amazing, but honestly, just having it for myself was all I needed to see. I now use Trello for my wedding planning business as well as my blog, and I can't wait to show you how I do it!
First, you may have noticed words like board, lists, etc being used already. Let me explain those to you.
Board- A board is the general location to keep things in order for a specific theme. You will notice that this board name is "To Travel & Beyond"- why? because it is the home of all things TTAB.
List- A list is created to keep track of specific items within those boards. They can also be moved around to create a better workflow.
Card- These are what make up a list. You can use these for tasks, checklists, recommendations, or anything composing the list itself.
Now, let me get into how I use each of these things (obviously I took these screenshots a few weeks ago)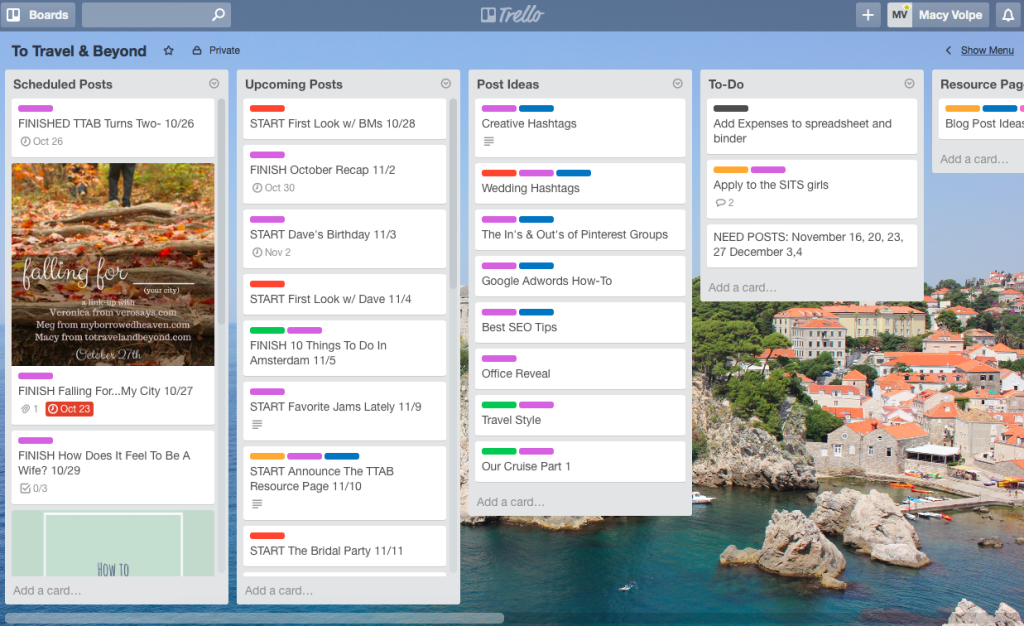 Board- I have a board dedicated to To Travel & Beyond, and another dedicated to Enchanting Events
Lists- I love this aspect of the board. You can have as many lists as you need and they can be as vague or specific as you prefer. For instance. The "Scheduled Posts" list will obviously only have the posts that I have scheduled for a specific date. Personally, I won't schedule a post until it has a main image, whether that is a Pinable image, or just one that goes with the post. When I move cards to this list, I also add the "hero" image.
Cards- Again, these can be as vague or specific as you would like. I keep them pretty specific. I also use cards as reminders, for example, under To-Do there is a post that says need posts, and then includes the dates I don't have a post in mind for yet. I can edit this title as I think of posts for some of the dates, and then archive the card when I am finished.
Titling Lists– It took me a few days to have my lists finalized and in the right order. Once I realized my workflow prior to using Trello, I was able to organize them in the correct way. The best thing is, these can always be changed! I have the following list names-
Scheduled Posts > Upcoming Posts > Post Ideas > To-Do > Resource Page > Sponsorships > Templates
To-Do– Is always general to do for my blog, never specific post related
Resource Page– Ideas I have for items to add to my resource page (ps- are you signed up yet?)
Sponsorships– I keep track of every sponsorship on this list. I note the timeframe, what each person gets within their sponsorship (social media, guest post, giveaway, etc), and check things off as I finish them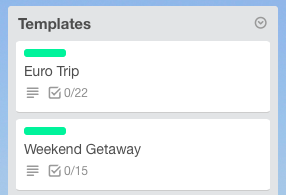 Templates- These are a LIFESAVER for me, especially for sponsorships. I create a checklist (see below) and save it to the specific card for each sponsorship option. Once a new sponsor signs on, I click "copy" and rename a new card with the sponsors name. Once this is copied, I can move it to the Sponsorship list. I am just to lazy for typing the requirements overtime I have a new sponsor.
Titling Cards- This is totally up to you, but I have a specific formula for some of my cards. I like to keep track of posts that are only an idea, already started, or completely finished. As I have different posts in different forms at all times, it is nice to quickly check and see if I am halfway finished, or not even started on a specific topic. For my lists based on blog posts, I use this formula-
progress + title of post + date to publish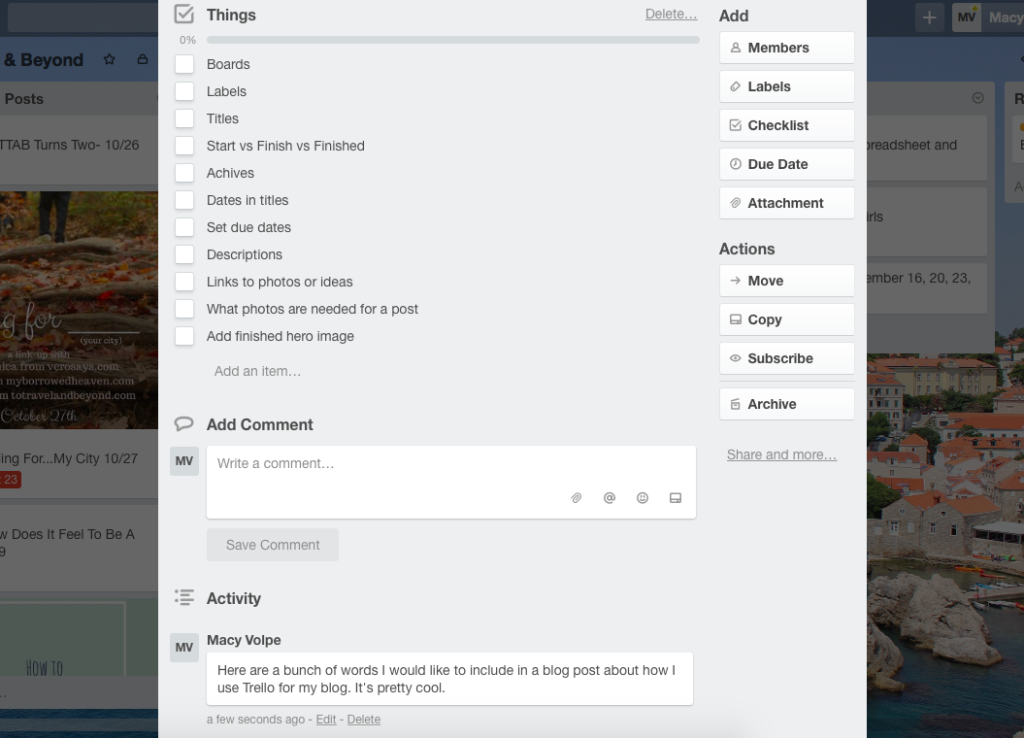 Once you click into a card, you are able to add several things to each card
Description– I don't use this as often as I could, but this allows for a long description based on the card title. If I have a reference or link I want to share within my post, I will often include it here
Add Members– If you have other people on your team that will be contributing to a certain task, you can add them to a specific card

Labels– You are able to create custom labels for specific needs. Once you label something, you can see the label in the quick view of each card. I love that you can use as many labels as you want for each of the cards
Checklist– You can customize this checklist to say anything you need, for example it could say "Send Emails To" and then have a check box for every person you need to email. In this example, I have a list of "Things" that I want to talk about within Trello. As you check things off, the progress bar will fill up. In the quick view of each card within a list, it will say "8/10" completed based on the checklist
Due Date– You can set a due date for each card, and you will get an email when the due date is approaching
Attachment– You can add photos, documents, etc. This is especially helpful when you have other members on a card
Comments– There is a space to keep notes and comments in the bottom section of the card, as you add more, the others will be saved below. I often take notes of how to start a blog post, or a quick sentence I want to include in the post for when I start it in WordPress
Want to know the best part about this tool?….IT'S FREE! While there are added bonuses with a paid (gold) account, the free one is awesome as well, and it is free for life if you want it to be!
Also, how fun is the board background? For my Enchanting Events one, I have a photos from a wedding and it always helps me feel inspired.
Do you use Trello for blogging? I would love to know how you use it!