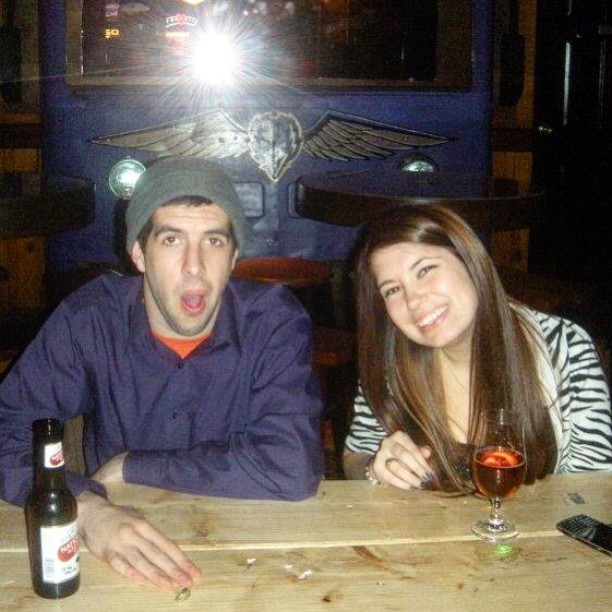 OH MY GOSH. 
I have 3 days to get everything together and finished. To live out my single days. Prepare to become a wife. I am so thankful for this life and everyone in it, and I basically have been crying all day everyday for the last 2 weeks. Every song on the radio brings tears to my eyes, every dad and daughter I see gives me the chills, each wedding blog post I read reminds me that a little bit of this is bittersweet, and then I look at Dave and realize he is almost my Husband. Husbanddddd I am about to have one of those!
That photo up there is from the first night Dave came out with the people from work, 3 and a half years ago. We were celebrating my 21st birthday, and this was the very first photo we took together. I couldn't have been more excited to find out he was coming that night, talk about butterflies! I love that photo so much because we are being ourselves, drinking Natty Boh, there is a Raven behind us, and we both still have those green things sitting on the table in front of us. Dave broke his key trying to get them off of the table, and for some reason the key has remained on his keychain since that day, and I have kept the green cap in my jewelry box. He also wore that purple shirt because he knew it was my favorite color- he found that out and remembered it in the short 3 weeks we had known each other!
This last week has been a whirlwind but amazing. It's like floating on cloud 9, and I don't even know what else there is to talk about besides our wedding. Except the casual story about how I was moved to the floor at the Taylor Swift Concert- spoiler! Check back Friday for that incredible story. Some set-up is beginning today, then the rest will be taking place tomorrow. Friday will be all about spending time with my bridesmaids and getting prettyfied, and then rehearsing away. Saturday will of course begin with Starbucks and end with a new husband!
Thank you all for following along with my planning journey, sharing your words of wisdom, being so incredibly encouraging when I needed it, and making me feel so excited to share these wedding tales every Wednesday. I can't wait to come back next week on the other side of the Wedding and begin sharing all of the details.
If you want to share in the photos of the weekend, our hashtag is:
#VolpesTieTheKnot
---
We would love to have you link up with us! Please link back to either mine or Meg's  blog to keep the Wedding Wednesday love going around! We can't wait to read your bridal tales, wedding stories and of course look at the pictures from your big day!
<div align="center"><a href="http://totravelandbeyond.com/" title="ToTravelandBeyond"><img src="https://lh5.googleusercontent.com/DuTUDWIem5UvRgTQOtJG5fpd1bgDDdkNlu3CnKG4iN4=s207-p-no" alt="ToTravelandBeyond" style="border:none;" /></a></div>