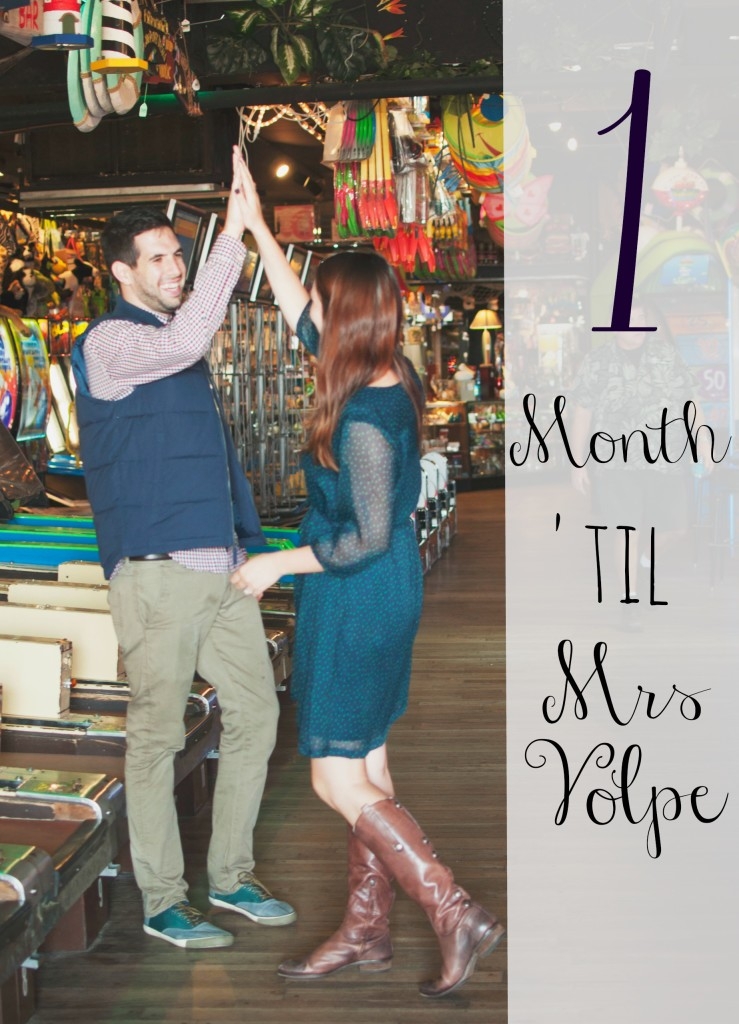 Okay, I am going to admit it, I may actually be kind of crying as I write this. I mean, ONE MONTH?! How did that happen? How are we so close to our wedding already? How am I still working on projects daily that all need to be finished as soon as possible? Oh my goodness, the time has come, ladies. I am going to take one from the #MoreThanAFrame prompt this week and lay it all out. I am scared, nervous, excited and full of butterflies. I don't know exactly how my life will change, but I know I am ready for the change. Dave has shown me a different side of life, given me more credit than I likely deserve, and helped me realize that I can do anything. Without him I would have went through the hardest times in my young 24 year long life, without someone there to support me in the ways that only he can. He has been there to wipe away the tears, tease me until I am laughing again, and stand me back up when I am down. I can't imagine this life without him.
One month from right now will be my wedding day. I wonder how I will feel. Will I have slept the night before? Will I be nervous or so excited that nerves won't even exist? We have so much going on between now and then, but I am so excited for each thing! I have actually been able to accomplish many items on my to-do list over the past several weeks, but that doesn't mean the list has gotten shorter. I am so thankful for all of the help I have received from so many people, I don't know what I would do without them!
What I have accomplished this month:
Bought Dave's gift. I went back and forth on what to get, but then it kind of fell into my lap as I was looking for something else.
Ordered gifts for Dave's parents, my dad, and grandparents.
We got our marriage license! This just happened Friday, and it kind of makes it feel real. We are actually getting married!
All favors are complete. We have four different favors, and I am dying to share them with all of you. One of these in particular was quite difficult, but it's all worked out and ready for the wedding. Just a few more weeks!
Almost all but 20 RSVPs have been received (we are now 2 days past the RSVP date…come on people). We have spent some time contacting those we have not heard from and it seems that the post office does not know how to properly do their ONE job. So digital copies of our invitation have been sent to a few.
Finally dyed my shoes. I bought shoes for $11 at DSW with plans to dye them purple. They are lighter than I had hoped, but they will do!
What I still need to do:
Finish all of the signs. Directional, menu, signature drinks, etc.
Assemble all gifts. I am so happy to have everything, now I just need to put it all together.
Write Thank You's for the bridal party, parents, etc. This is going to take a while. I have so many things to say to everyone, and I don't even know how to put it into words.
Finish seating chart. I started this when I finalized the guest list, I just need to go back and do a few adjustments based on the few "no" RSVPs we received. PS. don't go by the 20% RSVP rule, out of 230 invited, at least 90% so far are attending.
Print out seating arrangements.
Buy something extra for my mom and sister.
Order stationary for the hotel bags (which need to be put together), tables, programs, etc.
Finish purchasing the beverages. We have almost all of the alcohol, now we just need mixers and drinks for while we get ready.
Decide which decor pieces will go where. I have been collecting things for a year, now I just have to choose where everything will go.
Finish refinishing furniture. I am almost done, but in two weeks we are having one more wedding DIY get together with our families to knock this out.
Watch my Best Friend say "I Do!" on Saturday
Have my Bachelorette party
GET MARRIED!
There are plenty of other things mixed among the madness, but I am working on things day by day and getting it done. My goal has been to have everything completed by June 1st, while I am still aiming for that day, some things will take a little longer. I just need to remain calm and collected….I'll take a massage and a margarita 😉
How far along are you with your to-do list? Is there anything huge you think I may be missing?
---
We would love to have you link up with us! Please link back to either mine or Meg's  blog to keep the Wedding Wednesday love going around! We can't wait to read your bridal tales, wedding stories and of course look at the pictures from your big day!
<div align="center"><a href="http://totravelandbeyond.com/" title="ToTravelandBeyond"><img src="https://lh5.googleusercontent.com/DuTUDWIem5UvRgTQOtJG5fpd1bgDDdkNlu3CnKG4iN4=s207-p-no" alt="ToTravelandBeyond" style="border:none;" /></a></div>