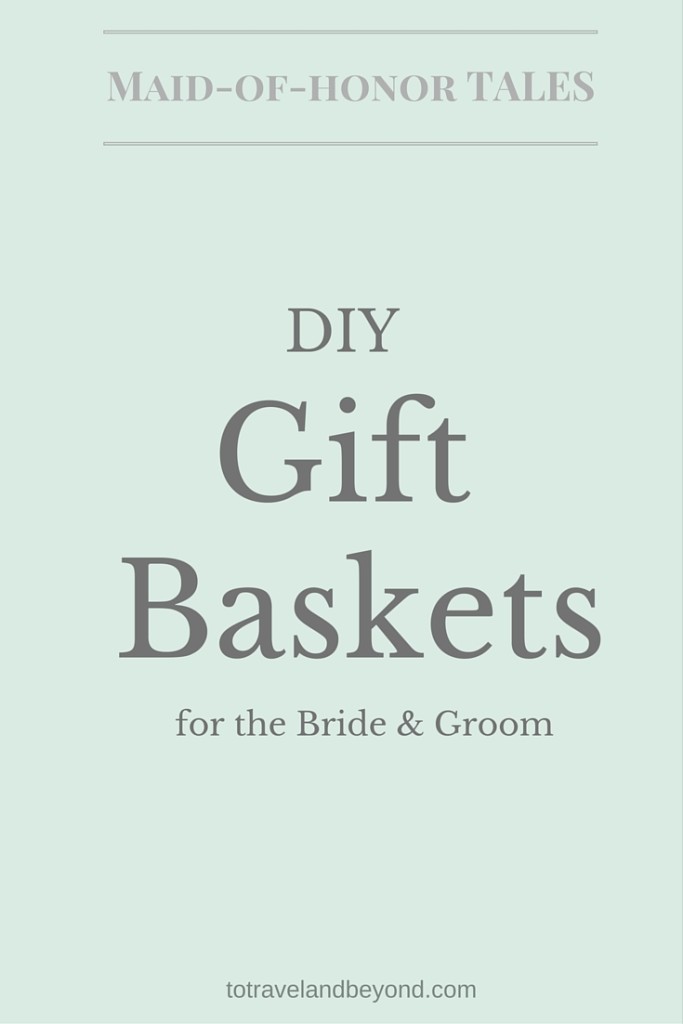 I have a very special post today for Wedding Wednesday! A few weeks ago, my amazing sister/Maid-of-honor asked if she could start a series on my blog about being IN someone else's wedding. I have talked about her countless times here, and mentioned what a great job she did as our MOH, so I was crazy excited when she asked! Being in someones wedding, as a MOH or otherwise, should be an honor. Out of everyone, you are one person that someone wants by their side on one of the biggest days of their life.
While it is easy to look at this as a task, and an expensive one at that, it really should be viewed as a huge moment! Over the next few months, I will have a post by Emily detailing some of the things she experienced being in our wedding, but also information she has gathered from others experiences. She is kicking off with some fun ideas to spoil the bride, but more in depth posts are coming soon!
---
Hi everyone! I'm Emily, and for those of you who know me, and those of you who don't, I am Macy's little sister and was also her maid-of-honor back in June! This wedding Wednesday I am taking over to talk about how I made Macy (and Dave's) wedding, and the months leading up to it so special.
From the moment Macy asked me to be her maid-of-honor I made it a point to make sure that she had something especially to look forward to every month, with the planning sometimes comes stress… I wanted to do something not only for Macy but also for Dave. Its very, very important to remember the groom. It's been mentioned before in the past but today I'm going to go more into detail on how I made every month (11 months from when they got engaged to the month of the wedding) special, while I did this as the MOH, even a Bridesmaid could make this happen!
Since Macy and Dave were getting married on the 20th of June, each month on the 20th day I would give them a basket with a special theme. One month I wanted to do something more intimate and sweet since Dave was going into surgery a few days later. I filled 2 mason jars, one with pasta noodles and the other with pasta sauce. I added a small candle that smelled like strawberries, a nice sized loaf of bread, and a movie!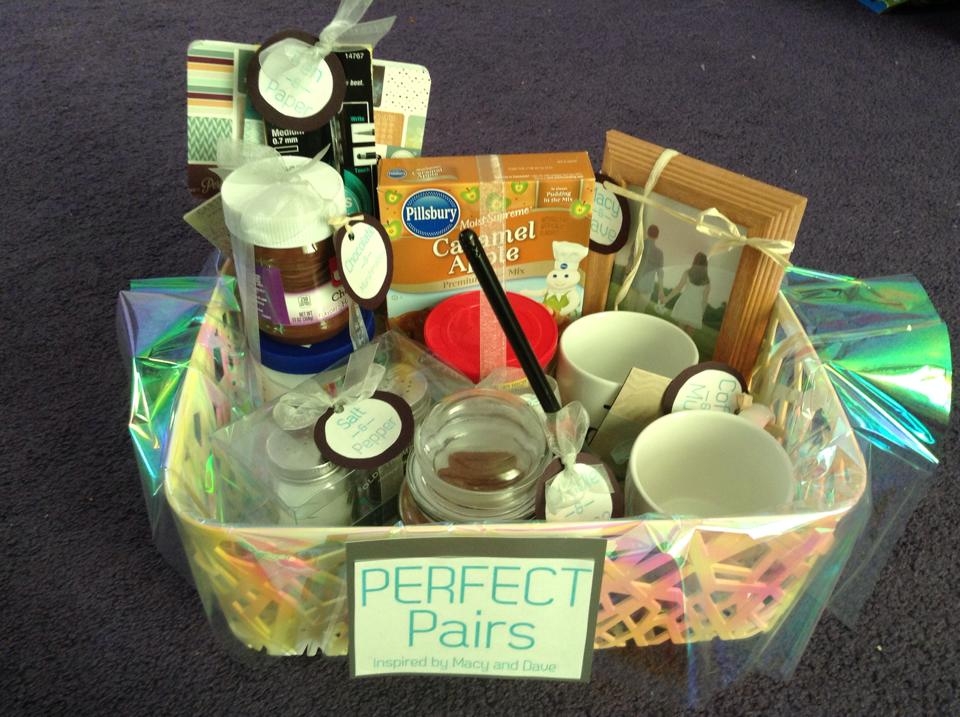 Another month I did a basket I called 'Perfect Pairs: Inspired by Macy and Dave…inside of it, I tied together 2 things that seem to go together. Including, Salt and pepper, a large candle with lighter, 2 coffee mugs with a starbucks gift card, Cake batter and icing, A memo pad and fancy pen, Nutella and marshmallow fluff, and lastly I framed a beautiful photo of Macy and Dave. The most perfect "perfect pair". I made little tags with what each pair represented and tied all of them to the 'Perfect Pairs' with ribbon!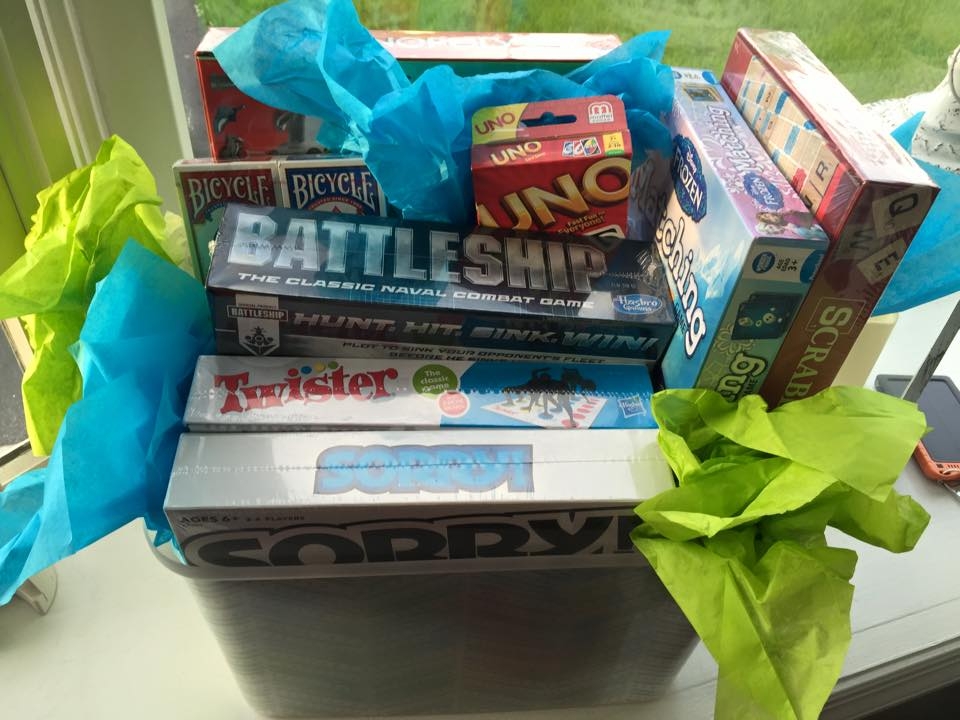 One month I filled a big box with a bunch of board games…I made a movie basket; I bought about 5 movies, popcorn, tons of candy, sodas, and a gift card to get delivery from the pizza place up the street. During the colder months I created 'Winter survival kit' which included another candle, 3 little jars filled with mini marshmallows, hot cocoa, and chocolate chip cookie mix with a recipe attached.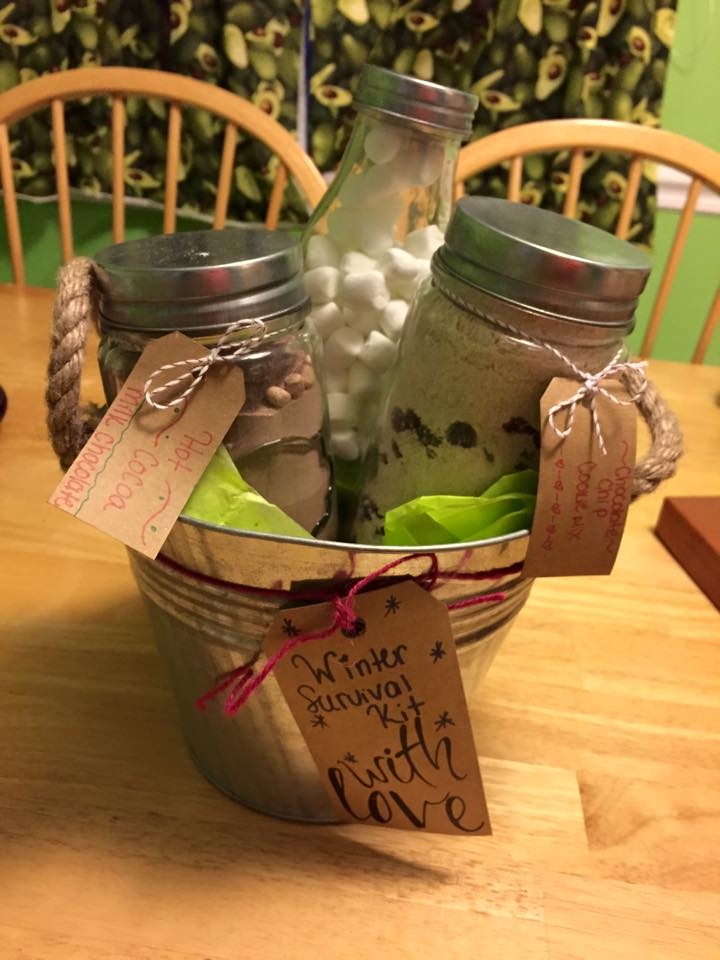 11 baskets, and all of them are so unique and have a story. Macy and Dave looked forward to them each month, and not only that but I LOVED putting the baskets together and seeing how happy they were when a new one came, that made it all worth it.
On their wedding day, I gave them the final basket which included 12 months of date nights to some of their favorite restaurants.
Thank you for viewing this wedding Wednesday post and I'm looking forward to my next one where I am talking about planning a bridal shower.
XOXO, Emily
---
As always, we would love to have you linking up with us and sharing your wedding inspiration, stories and photos of your own! Just please remember to link back to either mine or Nikki's blog in order to keep the Wedding Wednesday fun going around.