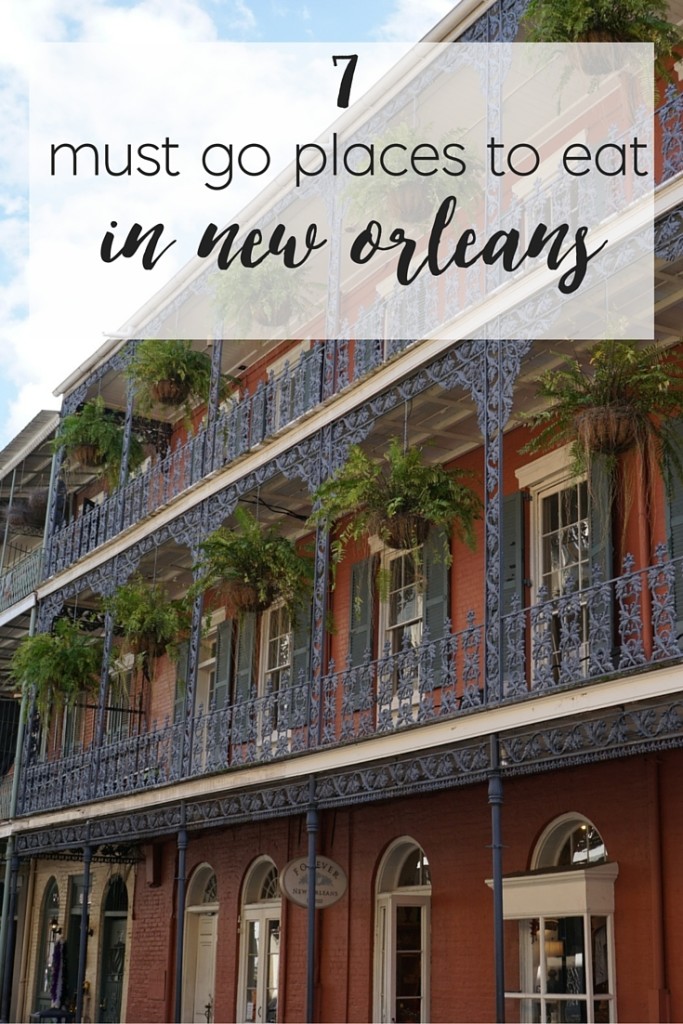 Deciding where to eat in New Orleans was a task! NOLA had an amazing assortment of food, and obviously endless supplies of Cajun cuisine. As I have mentioned before, one of my favorite things to do when planning a trip is make a list of where to eat, so I had a long supply of restaurants and bars for to check out while we were in town. We were a little outside of downtown, so we "sacrificed" a few times and went to local places within walking distance from our house, but those places were still delicious. Good thing travel calories don't count, right?
A benefit of blogging is being able to chat with others that have been to the same places, and I was able to get advice from both Megan and Simi for where to eat in New Orleans. Unfortunately, time flies and we weren't able to get to every recommendation, but these are my favorites from our trip.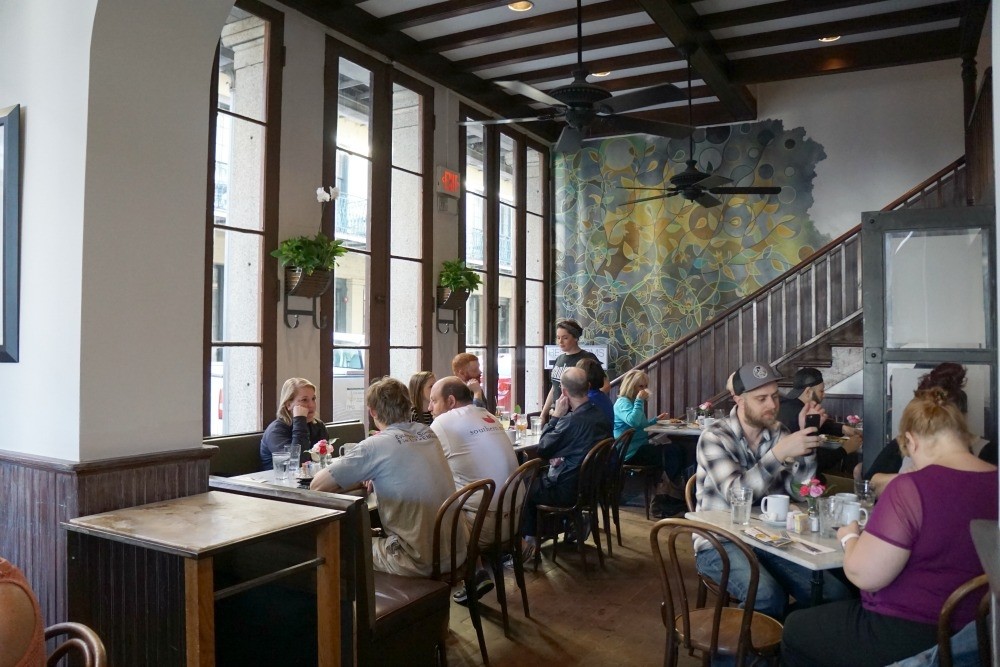 If you are looking for an amazing breakfast, you need to go to Stanley! You will find this restaurant right in Jackson Square on the corner waiting for you to stop by. We got lucky and were able to grab 4 seats at the bar, the wait was about 30 minutes around 9am for a table. I loved the decor and style as soon as we walked in, and then when the food arrived I was really in love. They had the best breakfast potatoes I have ever had! It was a little pricey, but well worth it in my opinion.
I don't know what it is, but I have really been digging sausages lately, and Dat Dog delivered. They have options for sausages, chicken, burgers and even vegetarian or vegan servings. If you are ready to be adventurous with your meal, I highly suggest finding one of the Dat Dog locations.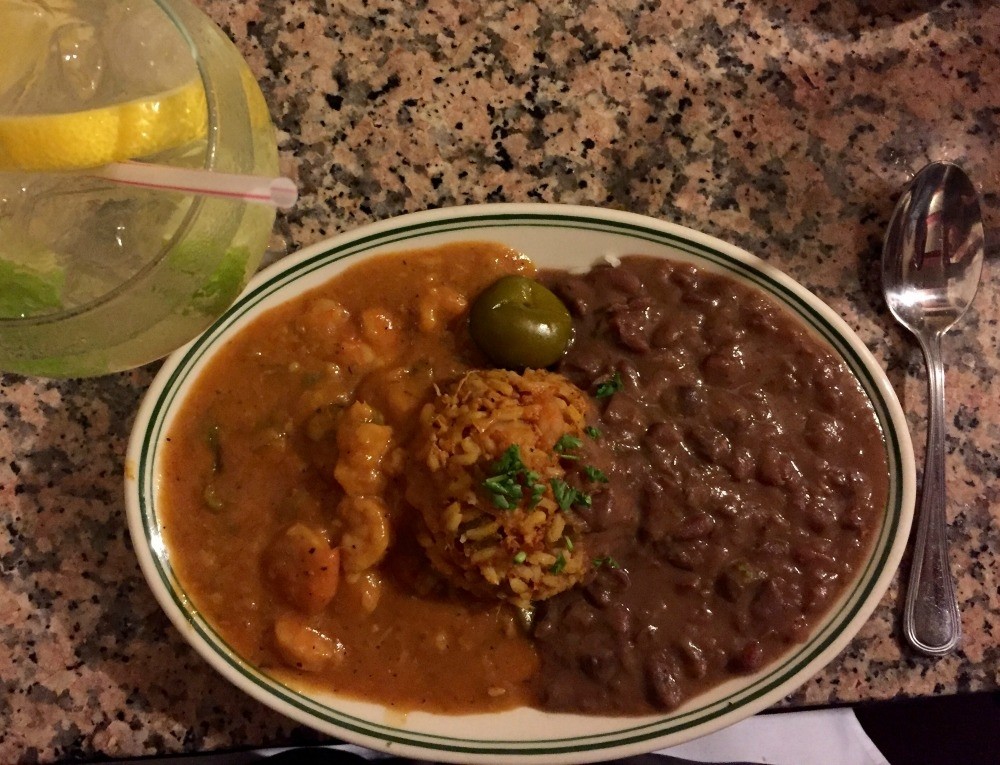 This was my absolute favorite dinner, and I would have been fine with going back every night. This is another great stop right by Jackson Square. There was a line when we arrived, but the couple ahead of us said it went by quickly, and a few minutes later we were seated. There was an outdoor seating area right in the middle of the restaurant, but it had been drizzling so we were right next to the open doors, but inside. There was no way I could chose a single traditional cajun meal, so I ordered the Creole Combination Platter which had jambalaya, red beans & rice and Shrimp Creole…talk about an amazing meal!
When it comes to a late night snack after a few drinks, I would normally settle for anything but not in New Orleans! It was around midnight when we decided it was time to get a bite to eat, and the search was on for a great spot. We asked a few people what they recommended and almost everyone said Daisy Dukes. We may have gotten lost on the way, and even had a ghost scare, but it was one delicious meal. We each got something different and sampled as much as we could. Above all, their wings were really awesome and the fried green tomatoes were amazing…especially coming from someone who doesn't like tomatoes! I have a feeling Daisy Dukes would be good at anytime of day.
When it comes to drinks, we all know of the popular places on Bourbon Street like Pat O'Brien's, but what really wins in my book is a 3 for 1 drink special. As we walked down the street one night, we noticed a huge sign for 3 for 1 drinks, we went in and asked if shots were included…and they were! The Swamp has two floors, a balcony, a bull and great drinks for good prices. It was the perfect space to dance a little, people watch from the balcony, and not spend an arm and a leg on drinks.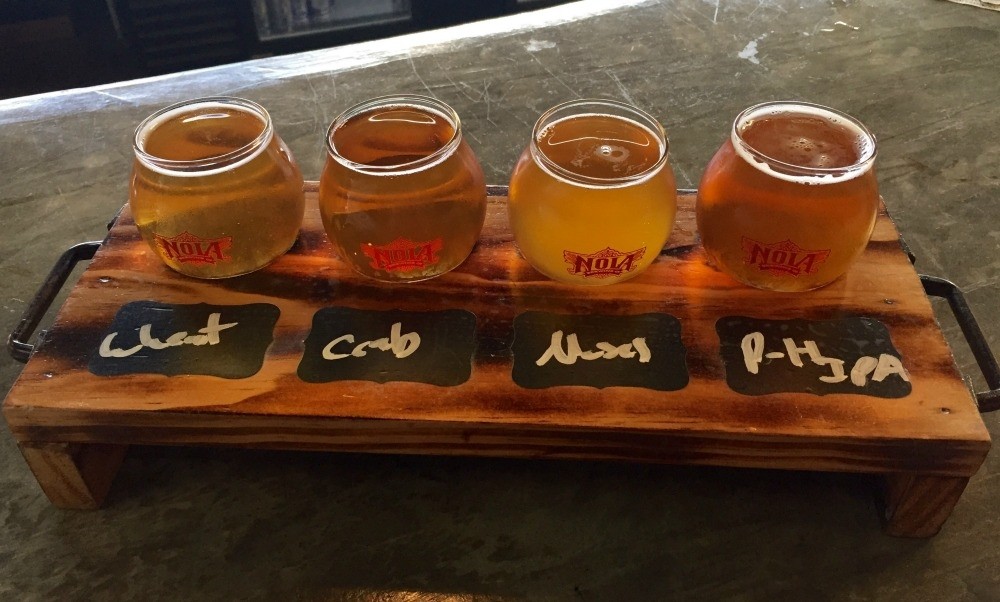 You may have noticed that we are all about beer lately, which means we have been trying to visit any brewery within 20 miles of our vacation destinations, New Orleans was no different. As we were walking around the Garden District, someone told us the brewery had just recently opened and was a great place to hang out, so off we went. We ordered the flight sampler, and then I ended up with the pina colada beer because it was AWESOME! The brewery itself was in a huge warehouse with ping pong tables, a loft, outdoor bar and endless games to play. We enjoyed jenga and delicious beer!
One place we missed out on and I highly regret not being able to go was District Donuts and Sliders. I had heard all amazing things about this place, and who wouldn't enjoy a donut sandwich?! But we just couldn't fit it into our schedule, hopefully next time!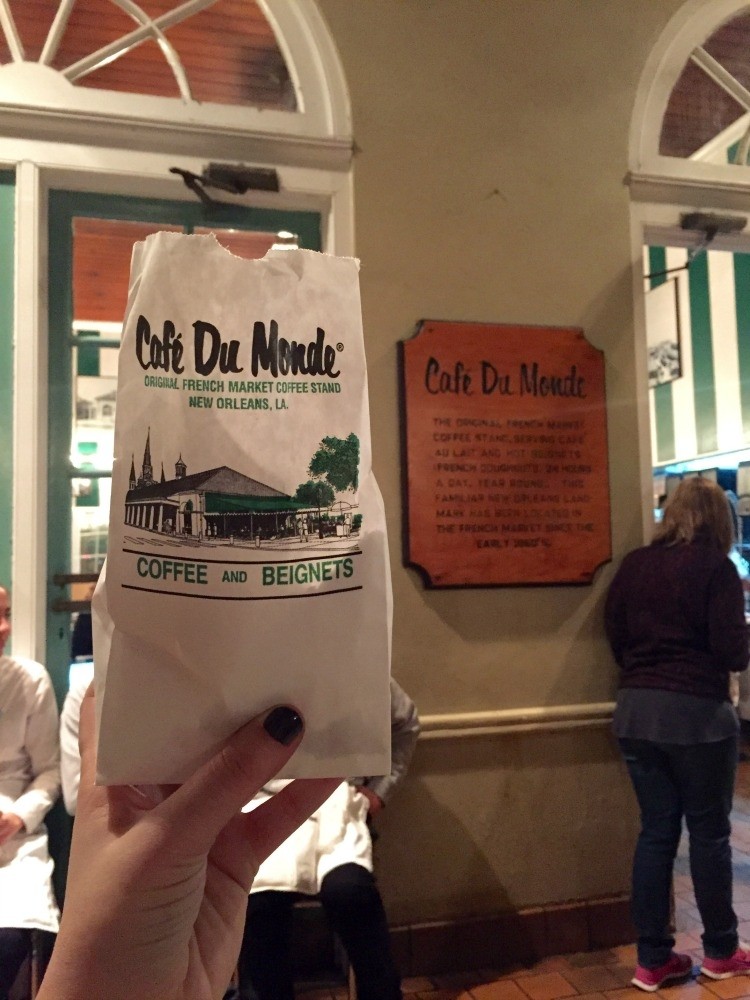 If you are up for a really fun night, stop in one of the several places selling jello shots for $1 along Bourbon Street. I'm fairly certain they are made of jello, fire, and Everclear, but hey why not for a buck! Then if you hasn't stopped in to Cafe Du Monde yet, try going around 11pm or 2am, we didn't wait in line and the coffee was perfect!
Have you been to any of these restaurants? I would love to know where to eat in New Orleans from your point of view!