This shop has been compensated by Collective Bias, Inc. and its advertiser, Colgate-Palmolive. All opinions are mine alone. #OpticSmiles #CollectiveBias.
With less than 4 months to go, I have really been focusing on my beauty routine for our wedding. I am working on my appearance, health, skin care, etc. I am going to be totally honest and admit that my goodness is it hard to get into these habits when I have never really had any sort of "beauty routine" in the past. Sure, I take off my make-up before bed (sometimes), moisturize after I shower (rarely), and wear SPF (when I am on the beach), but every single wedding list I see says to get into a healthy routine.
A few weeks ago I mentioned everything I have been doing to keep up with my physical (and mental- thanks Yoga) health, you can read about that here. But now it really is time to focus on the big picture. I am pretty much in a routine now, and I am seeing some progress. All you beauty gurus out there, please let me know what I am missing!
The first steps I take are drinking lots of water, and getting enough sleep (when I can). As I scoured Pinterest and wedding blogs, these were both constantly mentioned. It's better for me in the long run, so I am training myself to only drink water (with the occasional tea and coffee), and get 8 hours of sleep. Dave gets mad that I always want to go to bed early, but it will benefit him when I still look like I'm 25 when I'm 50!
My morning aka before makeup routine consists of oral hygiene and moisturizer. I need my pearly whites to be very pearly in all of the photos I am paying over $2000 for, so starting the whiter teeth by June 20th process ahead of time was key. I am so happy to have found Colgate® Optic White® Express White Toothpaste, if my teeth are so much whiter in only 3 days* just from brushing my teeth, I am going to save a ton of money by not needing a professional whiting treatment right before out wedding.
Another huge benefit besides saving money, is it's from Walmart, so I can pick it up anytime! This toothpaste even has 2 times more of the professional recommended whitening ingredient (when compared to Optic White Sparkling Mint Toothpaste). I have been so happy with the results I have received in just 3 days*, I can't wait to see how white and shiny my smile is on the big day! I am so happy to replace my old toothpaste with the Colgate® Optic White® Express White Toothpaste.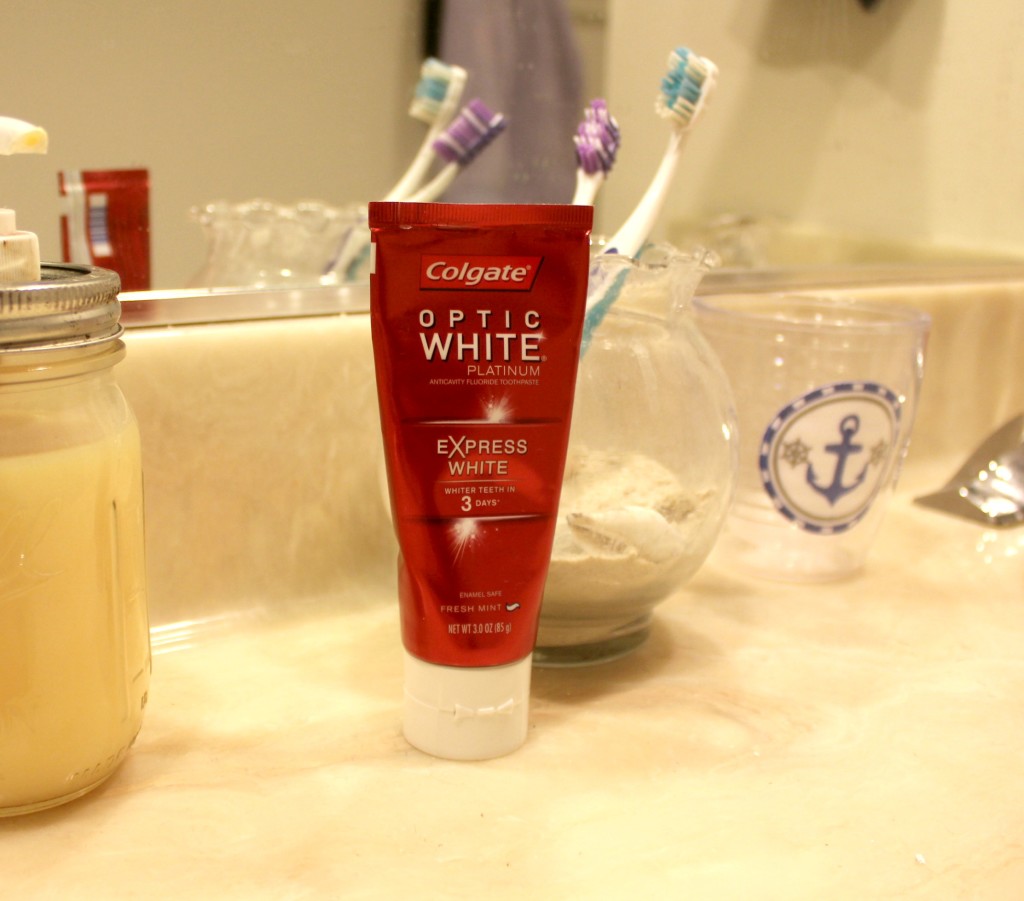 The second step to this routine is moisturizing before applying my makeup, this will also happen again after my evening shower. I like to put this on right when I wakeup, drink a glass of water, feed SharkBait, etc. then apply my makeup. This seems to give my face time to absorb the moisturizer prior to applying my makeup.
I apply BB Cream with SPF before anything else, so this takes care of my SPF needs for the day, as well as the base for my makeup. I don't typically use foundation because I don't like the feel of it, and I don't think I need it after I use the BB Cream. This also tends to last all day, so there are no reapplies.
During the day I am making sure to continue drinking water. Before I go to sleep I use oil-free makeup wipes to remove all of my makeup, and then take a shower. 3 times a week after my shower I use a mud face masks to clear out my pores, and exfoliate. After I wash off the mud mask, I apply moisturizer again and I am done for the night.
That is my full skincare routine for each day. What am I missing? This is a girl that only used eyeliner, eye shadow and mascara everyday until about a year ago, with no beauty routine what so ever (besides brushing my teeth, obviously). Any help would be appreciated.
*For best results, use as directed for 4 weeks.
Do you have a wedding beauty routine you have been doing?
---
Don't forget to link up with me and Meg for Wedding Wednesday, we would love to have you! We can't wait to read your bridal tales, wedding stories and of course look at the pictures from your big day!
<div align="center"><a href="http://totravelandbeyond.com/" title="ToTravelandBeyond"><img src="https://lh5.googleusercontent.com/DuTUDWIem5UvRgTQOtJG5fpd1bgDDdkNlu3CnKG4iN4=s207-p-no" alt="ToTravelandBeyond" style="border:none;" /></a></div>