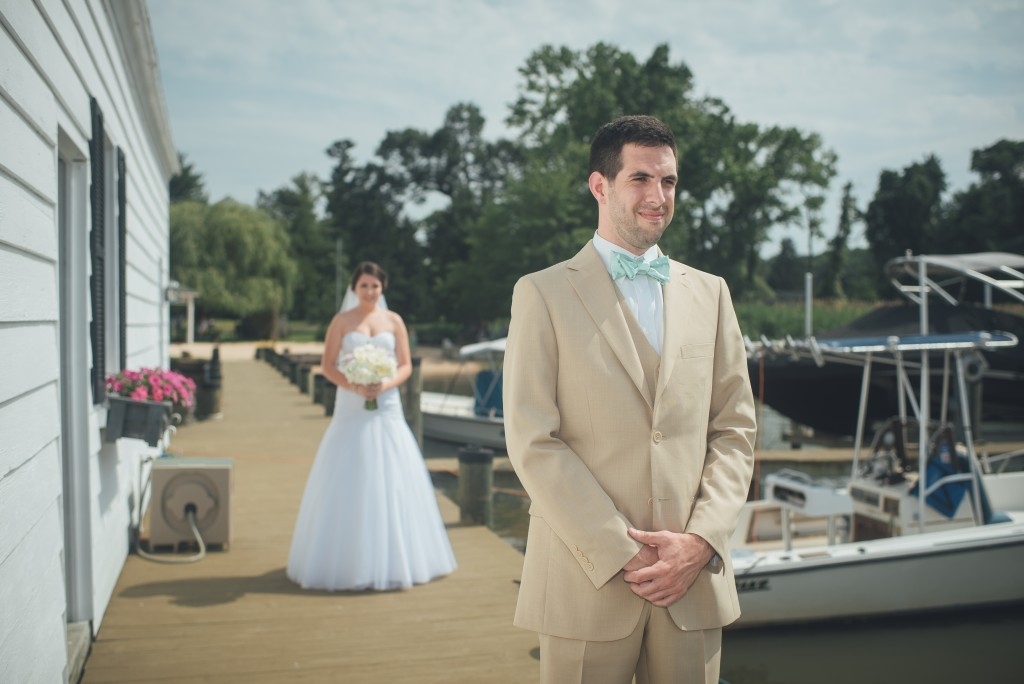 I have been thinking about this post since before our wedding. Not because it's going to be this huge insightful advice post, but because it really meant a lot to me. As I've mentioned before, I have always known that we were going to do a first look. It just made sense. But it was a conversation we still had, especially with my grandmother who said this was straying too far from tradition. These reasons may not be for everyone, and there's nothing wrong with waiting until your walk down the aisle, but this is what meant the most to us. In the end, I am so happy we chose to have a first look.
It Calmed Our Nerves
I wasn't as nervous as I thought I would be, but our reasoning was that we still wanted to see each other in order to calm down a little bit before the ceremony. I was pretty nervous to see Dave, so it still helped a lot, but I really thought I would be nervous about everything else. If this were the case, Dave could have been the only one to really calm me down. Thankfully once I could hug Dave, it really felt like our wedding day.
Quality Time Together
Besides just calming our nerves, being able to see Dave and spend a few minutes away from everything was important to the both of us. We knew that we wouldn't have much time throughout the day to just be us and live in the moment, so a first look was the best way for us to do that. From the moment I walked down the pier until the moments we were walking back together, it really made me so happy to just be with Dave. This was our day, and I wouldn't have started this part of the day in any other way.
More Photos Together 
Having photos done before the ceremony gave us much more time than a half-hour during a cocktail hour. We had photos together after our first look, then we had bridal party photos, and then Dave and I had more photos done after the ceremony. This was a nice way to break up the day and make sure we had time to focus on our wedding while hanging out with just each other while we had photos done.
More Time With Others
Since we were able to do a first look and then bridal party photos, we were able to spend a lot of time with our bridal party all together. This was really important to us because I am very close with some of the groomsmen and Dave is really close with some of the bridesmaids. I wanted to not only have a drink with the girls before the ceremony, but also with all of the guys as well. This ensured time for all of this and more. We also squeezed in a bite to eat for the guys because I accidentally had all of their food delivered to our suite instead of half to us and half to them.
Living In The Moment
Not that we wanted our photos together to "get out of the way", or end quickly, it was so nice to fully enjoy our reception. We didn't need to leave at any point to have more photos taken, and I was never worried that we had missed something between the two of us. We could both celebrate our marriage all night long without a worry, or a time crunch and that was incredibly important.
Did you have a first look? Why or why not? I would love to know!
---
Nikki and I love reading all about your big day, someone else's wedding adventures, or anything else wedding related. We just can't wait to read all about it, so link-up with us for Wedding Wednesday!