I'm going to be 110% honest, before I got pregnant I had big plans for pregnancy. I wanted to document every single detail, take weekly photos if not more often than that, wear the cutest maternity clothes, feel great about what my body was doing, etc. etc. I had ALL THE Pinterest dreams. But let me tell you, they went out the window at 5.5 weeks when I couldn't get my head out of the trashcan.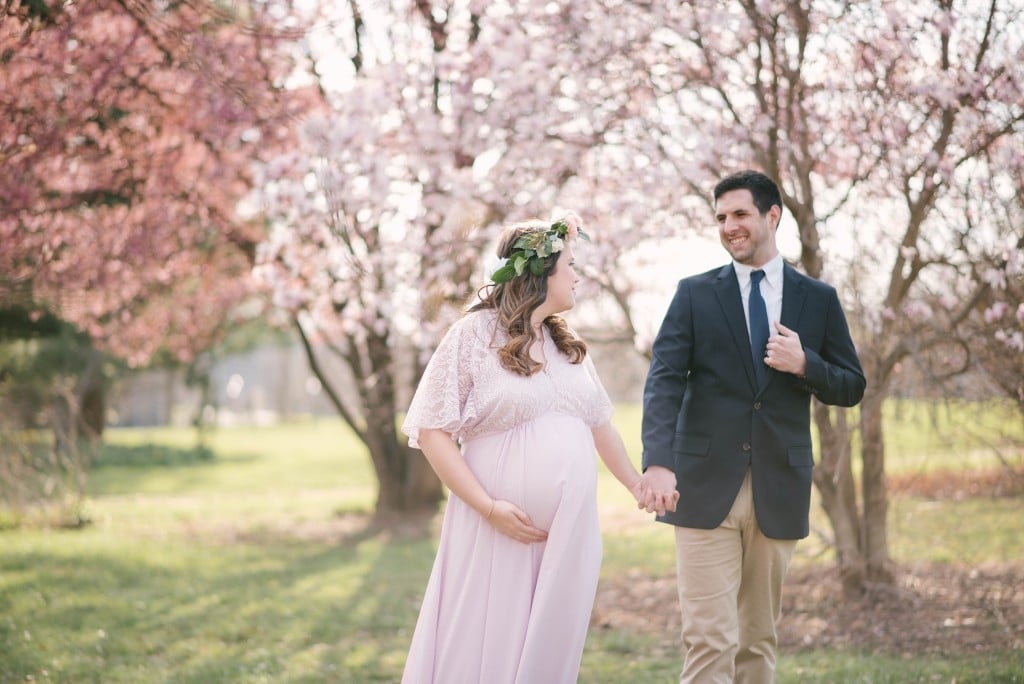 Honestly, even if I wouldn't have been sick at the beginning of my pregnancy, I don't think I would have had the energy anyways. I'm really glad I documented the reaction of a lot of people we told, but for a while that was a lot of work and the extent of any pregnancy Pinterest dreams. As time went on, I felt pretty crappy about myself. Gaining so much weight, the body changes, the stretch marks, and the exhaustion. By the time maternity photos were an option I had ZERO motivation to have them taken.
Thankfully, I have friends in high places…actually just friends who rock the photography game and told me I would regret it if I didn't take an hour to have these photos taken. So I searched for a dress and dreaded the day I would have to put it on.
My sister did my makeup, I did my hair (with multiple breaks to rest throughout haha) and we were off to meet Anne Casey Photography. It was freezing cold outside but the trees were starting to bloom and the sun was shining. Mandi from Chesapeake Charm Photography also joined us and the two of them made magic happen.
At first I was really worried about how these photos would turn out because of all the feelings listed above, but after a few minutes these gals had me feeling great! The sneaks from back of camera, the words of encouragement, and the endless laughter helped so much. I have never been more comfortable having my photo taken, how crazy is that?!
After we were finished I told Dave that we should have taken the time to have photos sooner because it gave me an entirely different mindset! I was then more excited for everything else (like my shower that was a few weeks ago and coming to the blog later this week) and enjoying this portion of our experience. I know it's going to come to an end soon and it's bittersweet.
So, friends, if you are debating the whole maternity photo thing, even if dressing up isn't your ideal night out, have some sort of photos taken during this time in your life. I really don't think you will regret it!