I'm not ready to admit it, but I heard a rumor that fall weather is right around the corner. While I want to savor as much of this summer as possible, that hasn't stopped me from finding several items that I am dying to add to my wardrobe. If Dave read the blog, he would probably tell me that I need to move on because nothing else will even fit in my closet- which it true, but now that I have so many summer clothes, it's time to start thinking about what fall clothes I want need.
I am also inspired by how on-point Meg's gift lists and wish lists always are. So I figured, why not make my own for the new season. Maybe new clothes, shoes and jewelry would get me a little more excited?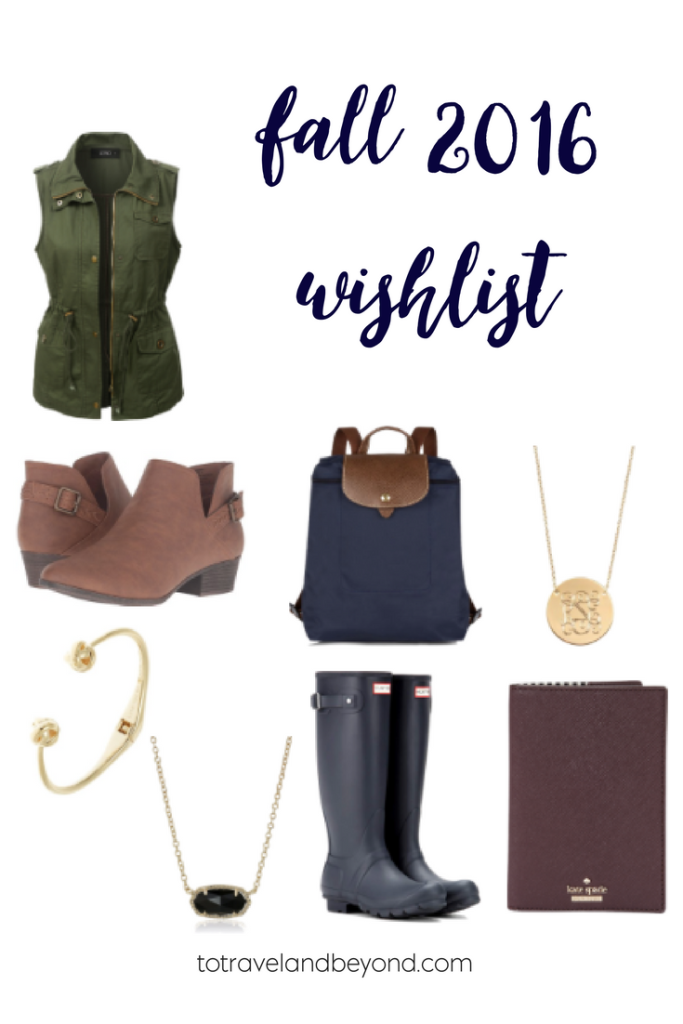 Hunter Green Vest. This is the best fall color, which is obvious from the #GirlsInGreenJackets hashtag we started in NYC. I have two jackets in this color and now I need to add this vest (or something like it) to my wardrobe asap. The time is NOW to wear something like this.
Brown booties. I wore the pair I bought last year almost everyday. Because of that they are fairly worn out and I'm certain I need a new pair. Some black ones would go along nicely with my wardrobe as well.
Kate Spade Cuff Bracelet. I have been all about bracelets lately and this one (in rose gold) would match my sailors knot one so well. I really like bracelets that aren't bangles, even though that is mostly what I have.
Kendra Scott Necklace. I'm totally late to the party on this one, but I LOVE this style necklace. I wear a necklace almost everyday and this is the perfect piece to make a statement but is also casual. A client gave me the most perfect one is with a light peach stone and now I would love a darker one. I am thinking navy, purple or black.
Longchamp Backpack. I was never a backpack kind of person until I met Dave. He takes a backpack everywhere and even uses it as his carry on for most of our weekend trips. I have a backpack for work (which actually just broke- any suggestions for a new one?) but it would be great to have a nicer one for traveling and walking around.
Hunter Boots. I'm about 5 years late to this party, but I will continue putting Hunters on my wish list until I get them They go with so many outfits and are perfect when it's a little too hot to wear my Bean boots.
Stella and Dot Necklace. I bought the Stella and Dot bar necklace right after we got married with our initials, but now I want the disc version with my monogram. Again, it's such a beautiful piece and perfect for many occasions.
Kate Spade Passport Cover. I have a passport cover but I need an updated one and this purple one is gorgeous and would match my luggage perfectly!
What is on your wish list for the new season?