It's been quite a while since I shared my favorite things, and each time I think of a new favorite I am reminded to write this dang post! Now that "No Spend" (really just spend less) January is done here is a wrap up! These favorite things are a wild variety of items from self care to household.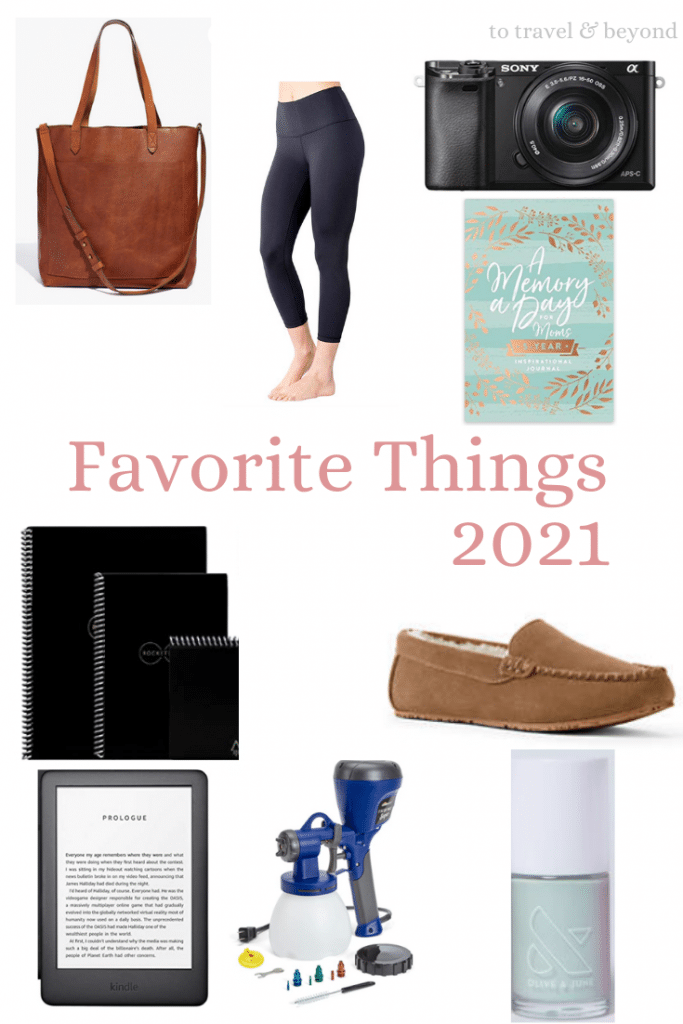 Leggings. My number one favorite thing for quite a while now- these leggings! I have multiple pair and they are buttery soft, stay up, long enough (I am 5'8) and SO COZY. They wash well and are a great price. I workout in them when I need to but they are more for everyday.
Rocketbook. A new favorite is this Rocketbook. It's a GAMECHANGER for work. This book has multiple uses for me. I write my daily meal plan & grocery list, have a personal to-do list and also use it to keep track of daily notes. I have a running Google doc to write notes for each work meeting, but I am often sharing my screen. When I know I will need to take a few quick notes, the Rocketbook is perfect! Once you're done with the page, you wipe it clean and have a clean slate for more. The book comes with a pen and microfiber cloth. You can also download the app to save any pages if you would like to have it for reference.
This line a day book. I absolutely love the prompts for each day, it really makes you think about the random happenings in life. I also enjoy the versus and prayers at the bottom of each page. I'm now in my 3rd year and it's nice to look back at previous responses from 2019 and 2020.
Makeup Towel. I started using these towels years ago and they are great! I'm slowly trying to have a more sustainable household and this is a really good place to start. The material is soft, machine washable and really get the makeup off well!
Headbands! Now that I'm working from home and on Zoom meetings all day, these headbands are even more clutch. I get to go an extra day without washing my hair while looking put together enough to turn my video on. If you haven't yet tried the headband trend, I highly recommend one of these packs. Multiple colors, good fit and comfortable.
Madewell Tote. I thought about this bag for over a year. I have a few friends that own one and I am always so impressed by how well the material holds up. It's a slight investment so I waited for a #TreatYourself moment over the summer and bought it. I love the gold monogram detail (you can get it without a monogram or in another color), the long strap for wearing it crossbody if needed, and the high quality material. It's a really great bag! I'm debating another smaller version now too.
Kate Spade Wallet. There are many wallets that function the same as this one, but I have had it for 5 years and it's still in like new condition. The amount of card pockets is great, extra space on both sides of the coin holder and a really good size.
Camera & Lens. I have had this camera for 4 years and it's an absolute must have for me. It's mirrorless (which I was told is a good thing), light, it's easy to change the lens and it's fairly small. I can put it in my purse and it doesn't take up much space at all. I have this lens on it currently and plan to get another one soon.
Body Scrubber. I have used loofas for decades at this point, but I ended up replacing them more often once I realized how gross they can get. I bought this body scrubber and won't look back! The slight massage is great, it's compact and comes in pretty colors. I have noticed I need to use a bit more soap, but it doesn't seem like enough to make a difference. I also love the massager for shampooing on the other side.
Scale. This scale is a must have for me. Over the last two years I have become more focused on my overall health and wellness, and I really wanted to see something beyond just the pounds. It measures 13 different things like BMI, water weight, muscle mass and more. It connects to an app on your phone so you can easily track your progress and view your goals.
Made by Mary Necklace. Really anything from Made by Mary. Something from this shop is always on my wishlist. I have a few necklaces, rings and a matching bracelet set with Ollie. My latest (from last years birthday) is a bar necklace which I wear almost everyday.
Paint Sprayer. If you have painting or DIY plans in your future, this is a must have! It works really well, goes on so smooth and is really easy to use.
Wine Fridge. This is a highlight of our kitchen. I will admit we had much more wine in our house before we got this fridge, but it's worth it. We removed a shelf to fit beer and drinks for Ollie on the top shelf and wine bottles are below.
Kindle with built-in light. My reading game has spiked immensely since buying this. I used to use a backlight on my old kindle and it wasn't getting the job done. This is inexpensive and works really well.
Monogrammed Slippers. I love this so much! I've worn them practically everyday for a year (even on vacay!) and they have held up wonderfully.
Workout Shorts. If it's Lilly, I am likely going to give it a try. These workout shorts have a liner, are very light, and the vibrant Lilly Pulitzer patterns make me happy while I am breaking a sweat.
Olive & June Nail Polish. Call me convinced, I love a good nail polish. I heard rumors that this polish was the best, but I have around 100 Essie polishes (among others) and wasn't ready to jump ship. Thankfully, one of my besties gave me a polish and top coat for Christmas…I am s o l d! it's that dang good, especially if you are an experienced nail polish-er.
These are a few (really lots) of my favorite things right now. I would love to know what you're loving!