I am about 5 trips behind, but I can't help but dive into Disney World recaps first! Some people may think it is crazy to see all 4 parks in Disney World in 4 days…and I wouldn't argue…but for us it was all the time we had and it was well worth it in the end. We left bright and early the day after Thanksgiving and took full advantage of the rest of the day in a park. I think at this point our adrenaline was on high and we could have went all day…as you will see, we did! For 4 days in a row! It's obvious to want to see and do it all, no matter how much time you have in Disney, and this is what worked best for us.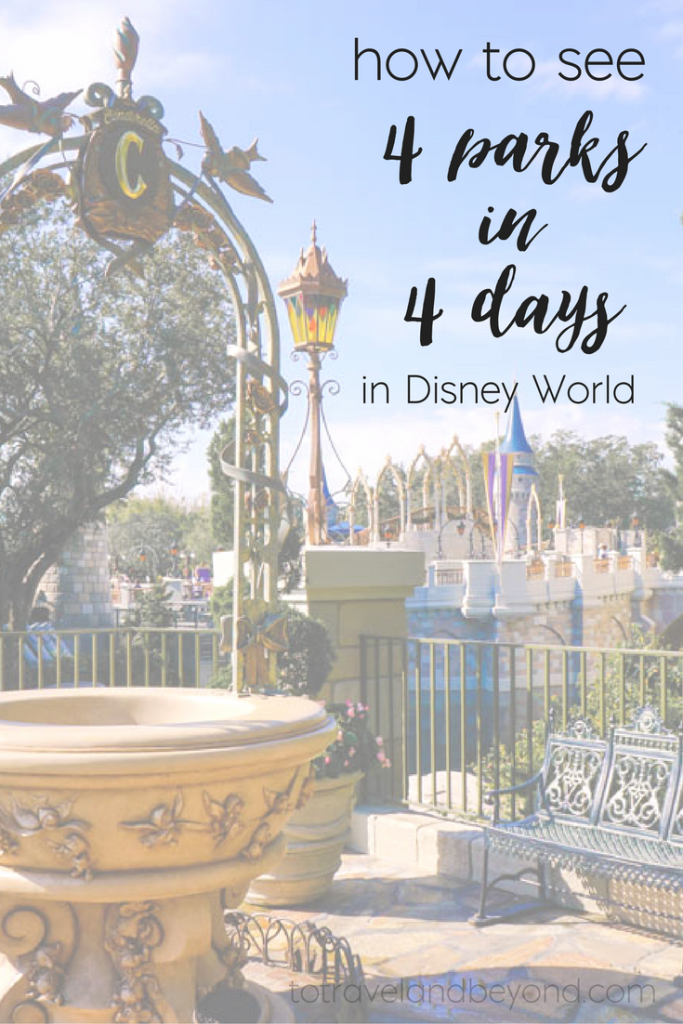 Day One: Hollywood Studios & Disney Springs.
This was the busiest day for us since we wanted to see so much. The key to this schedule is staying at a Disney resort and taking advantage of their transportation, luggage assistance and extra magic hours. Because we were able to check bags and Disney would handle delivering them to our room, we only brought what we would take into the park, with us onto the plane. I had a small backpack with necessities, Dave had his backpack and our friends did as well. We arrived in Orlando around 8am, boarded the Magical Express and were on our way to the hotel zone by 8:30am. Since we didn't need to drop anything off at the hotel, we asked the driver which stop was the closest to Hollywood Studios and got off there. As soon as we got off, the bus for Hollywood Studios was pulling up- perfect timing!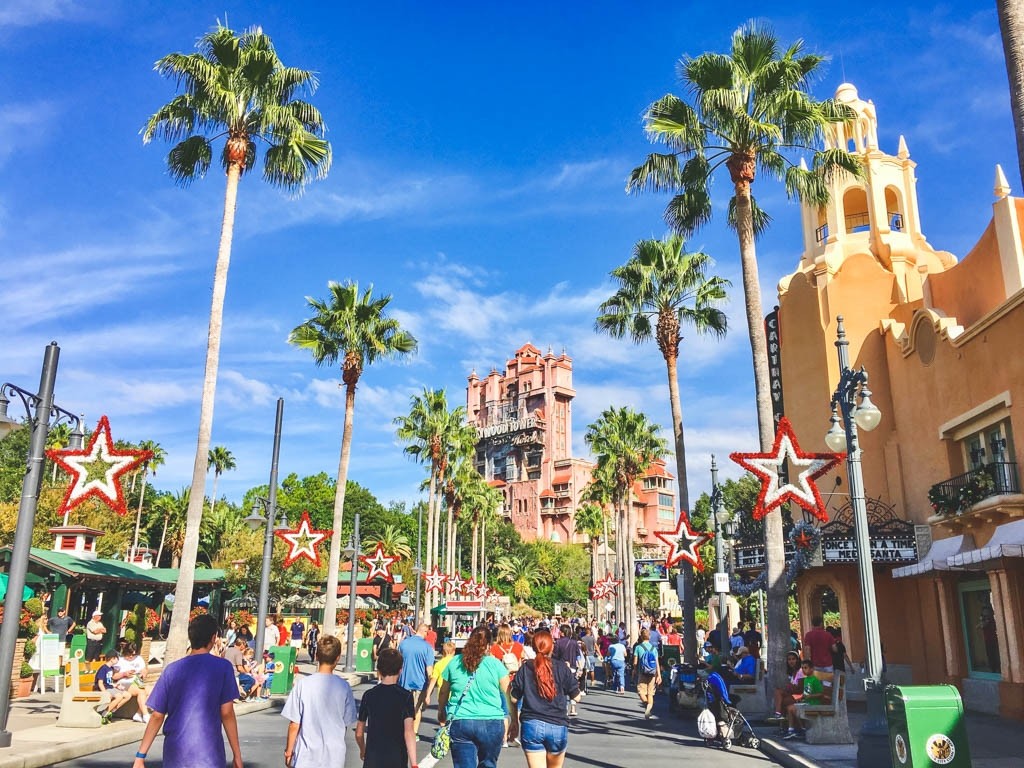 Once we arrived we decided to explore the park, ride some rides with lower wait times and have lunch. I had already reserved a Fast Pass (more on this in another post!) for Rockin' Rollercoaster which was around 12pm. Once we took our ride using the Fast Pass, we noticed the Tower of Terror had a shorter line, so we got on that as well. Since we had already been on the two bigger rides, we decided to head back to the hotel. Our room became available around 11am which was awesome! We boarded the shuttle, avoided checking in since our magic bands were the room key, and relaxed for about an hour in the room.
Around 4pm we made our way to Disney Springs to explore and have dinner. We walked around for a while, did some shopping and then made our way to Cookes of Dublin for dinner. Most of the restaurants had a very long wait, and we were starving. Cookes of Dublin was a fast casual setting, with outdoor seating and craft beers- perfect for us to relax a bit. After dinner we did a little more shopping- having every purchase sent back to our resort so we didn't need to carry it. Once we finished everything we needed to do and see at Disney Spring, back on the shuttle we went to see more of Hollywood Studios. Our Extra Magic Hours allowed us to stay in the park until 1am, which we did, as we fully enjoyed every ride. Tower of Terror and Toy Story Mania being the best rides in the park.
Day Two: Epcot.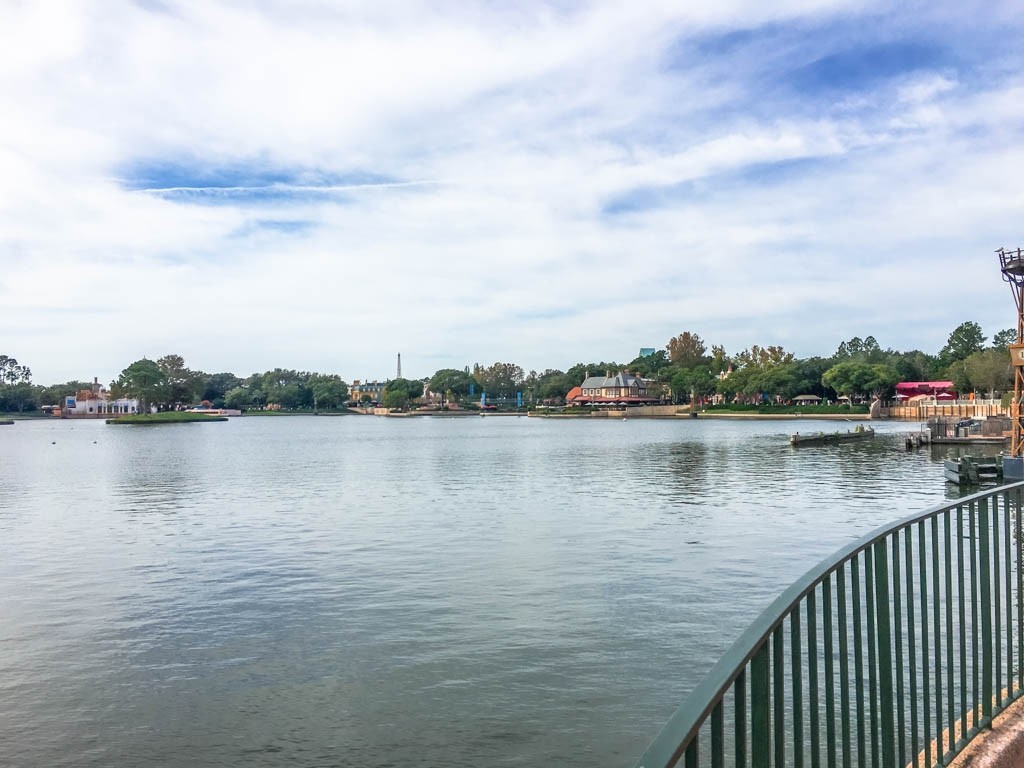 It's very important to wake up early when you are on a time crunch, this meant a 6am alarm clock, quick shower rotations, and a fast breakfast to be at the shuttle stop by 7:30am every morning (with EMH starting at 8am). There were long shuttle lines for Epcot, so we arrived a little late, but thankfully we were still able to see some empty areas of the park. Soarin' was our first ride, since the Fast Pass was for Test Track. Once we rode the rides at the beginning of the park, it was time to start drinking around the world. I am going to do an entire post of this because it was so much fun, but basically Dave made us all passports and each country had it's own drink. We decided to share drinks in a few countries to make sure we at least remembered why we were there.
I love Epcot because of the various rides, activities and experiences they offer, it's truly unlike any other amusement park. It's an experience park for sure. Unfortunately, we decided to make some sacrifices with what we were able to do in each park, solely because we didn't want to overly exhaust ourselves by doing everything all day. Around 7pm we decided we would skip the firework show (boo- I was bummed because fireworks are my favorite, but I understood) and head back to the resort. It was nice for our bodies to get their needed rest before the most magical day of all.
Day Three: Magic Kingdom (including Mickey's Christmas Party).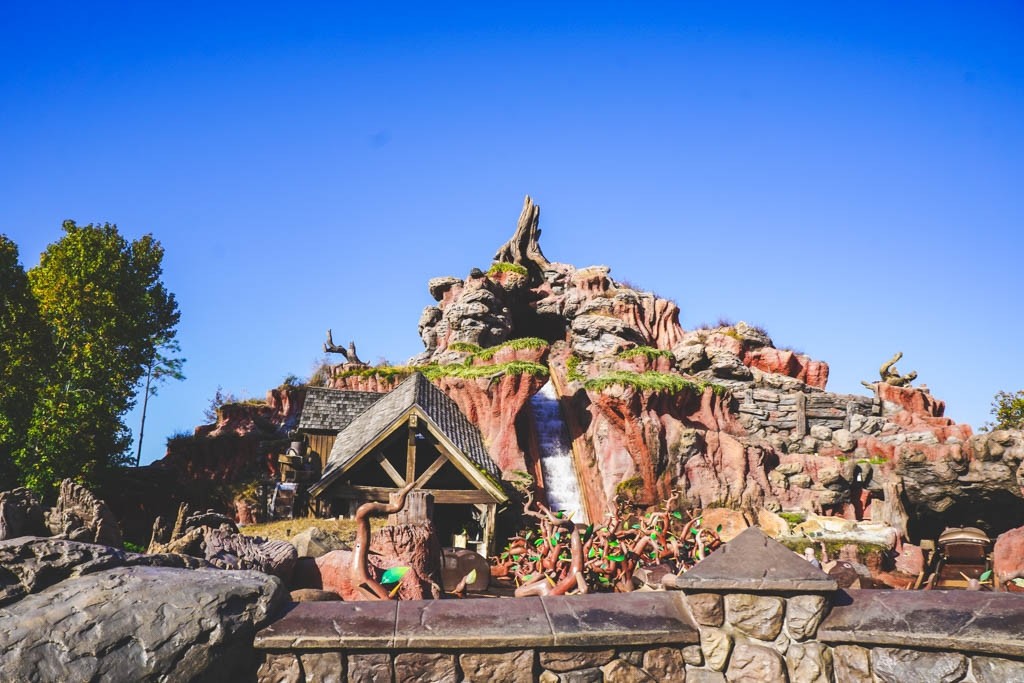 Another early wake-up call of 6am. I had no idea how many people lined up to get into Magic Kingdom when it opened. I thought getting there 30 minutes before would be enough, but I wish we would have been there at least an hour prior to the opening- now I know for next time! As soon as we got there, we rented a locker for our change of clothes. We were staying for the Christmas party and wanted some festive attire to wear that night, so this was a great option. After we got the deposit back I think it was only $5 for the whole day with unlimited use.
If you haven't experienced the opening of Magic Kingdom before- DO IT! The train pulls in with Mickey & friends, there is a song and dance, then a countdown. It was so much fun to experience. Then the flood gates open and it's a madhouse to get into the park and get that first glimpse of the castle. We walked/ran down main street to get some photos of the castle pre-crowds, which was very worth it.
Once we had all of our photos, we made our way to the bigger rides- Thunder Mountain, Splash Mountain, etc. Thankfully, the EMH allowed us about 2 hours with very minimal wait times so we were able to take our time throughout the morning. The only thing I would change is not going to the Seven Dwarfs Mine Train at this time because the lines were very long later in the day- thankfully, we did have a Fast Pass (Magic Kingdom actually allows you three FP's). It was really nice taking the day slowly for the most part and enjoying ourselves around every turn. I highly suggest getting a spot early for parades, which is also a great time to relax while you wait. The biggest piece of advice for Magic Kingdom is to take it all in and go at your own pace. Also, ride all of the rides. Even the "kiddie" rides like Dumbo and Aladdin's carpets.
The Christmas party started at 7pm, which was so much fun! There were complimentary snacks, like eggnog and snickerdoodle cookies, various shows and parades, and some of the rides were transformed into Christmas experiences. After the Christmas parade it snowed on Main street! We didn't make it to 12am (when the party ends) but leaving around 11pm was perfect for us- especially because we needed to pack when we got back.
Day Four: Animal Kingdom.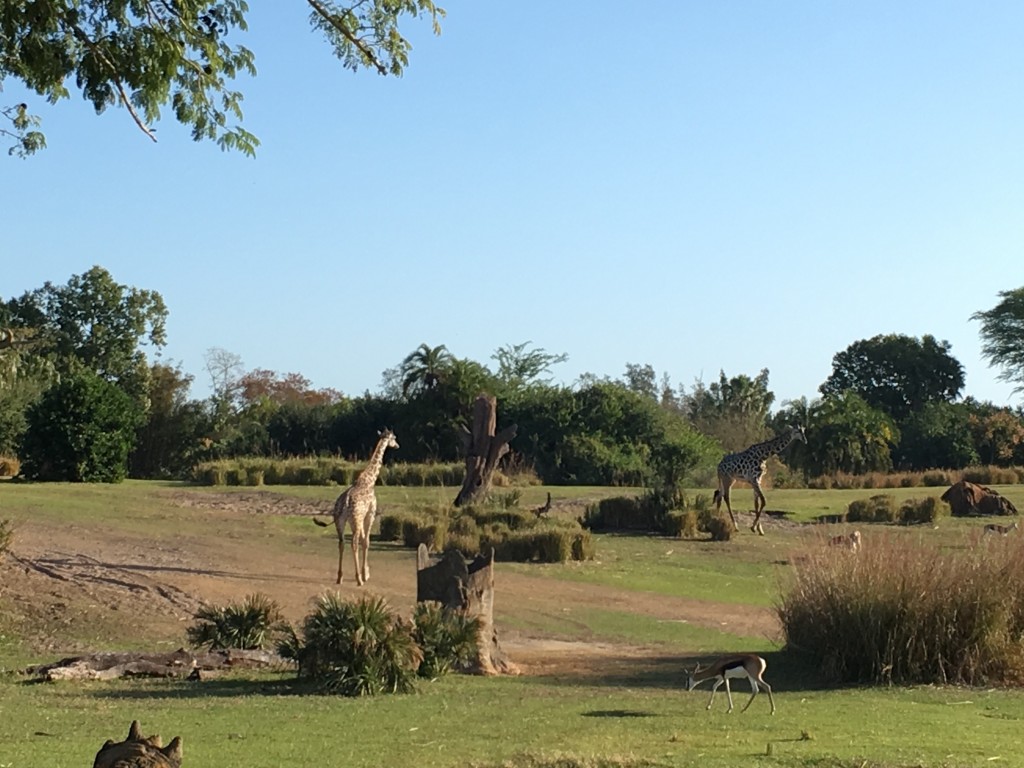 With a wake-up call again at 6am, we finished packing up any last minute items and dropped off our luggage in the lobby for them to hold for us. We got to the park as soon as they opened, grabbed a map and planned our day. We saved Animal Kingdom for last because we had heard it has less to do than all of the other parks- which was somewhat true. This was the perfect park for us on our last day, because it was a shorter time in the park and because we could relax as we roamed. We went straight for the safari ride when we arrived and it was so cool! I don't remember riding that previously and we all loved it.
We managed to plan our day out perfectly and even had time to ride Expedition Everest three times! We called it a day around 3pm and made our way back to the hotel to get ourselves together. With all of us departing around 7:30, this allowed for us to change, chill out for a little while, and have dinner before we departing this magical place.
In the end we had the best time, my only regret is not having time to explore the resort. Port Orleans had so much to offer, as all Disney Resorts do, and we couldn't take part in it because we didn't have the time. Next time, we definitely will put time aside for that! I can't wait to dive deeper into our plan of attack for each park, for now take a look at our adventures in the Disney World Vlog!
Have you ever done Disney World in 4 days?