Every year we take a trip to Williamsburg, VA in the fall with my family. I have memories from this trip going back to around 4 years old. I have taken friends with me, dealt with my younger brothers, and talked my cousins into riding rides that I knew they wouldn't really enjoy. For the first time 2 years ago, I was allowed to bring Dave. None of us were ever allowed to bring boys on family vacations, because it was just that, for family. I always thought that it was because they didn't want to have to hide family photos with boyfriends of the past. Which actually makes sense. But now, I am so happy to have Dave along for this family tradition every year.
Williamsburg has a special place in my heart. It reminds me of family, growing up, history and my American Girl Doll, Felicity. Since I was homeschooled, we were able to go during the week and practically have private tours anywhere we went. I also fell in love with the College of William and Mary, and fully planned on going there until I realized just how expensive it was.
As I get older, I have even more of a appreciation for this area. I get butterflies just driving through. The proximity to my favorite theme park doesn't hurt either.
So if you are ever looking for a cute town with so much history and a jump back in time, I really think you should consider Williamsburg, VA for these five reasons.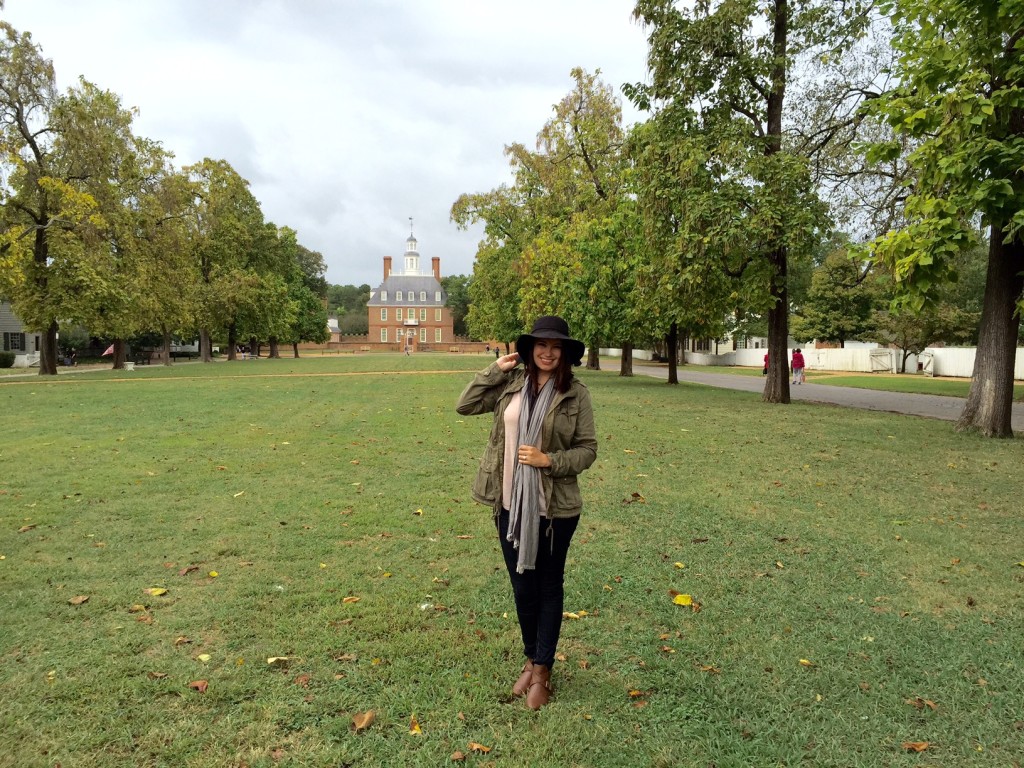 hat-Amazon | scarf- Oakleigh Rose| jeans- Target | boots- Amazon
Walk Around Colonial Williamsburg: This is where you will go back to life in the 18th century. Take the tours of the court house and the brick making house, and everything in between.
Eat At A Tavern. I have been to all of the Taverns in Williamsburg and King Arms Tavern is my favorite. They have a really great peanut soup, and it's just a fun atmosphere.

Busch Gardens. This is by far my favorite theme park, especially during Halloween. They have something called Halloscream and it is awesome. The entire park is transformed into a haunted park, and at 6pm everything becomes scary. They have corn mazes, characters walking around to scare you, themed food, and the best part is all of the opportunities to buy alcohol. You are allowed to walk around with your drink and it is the best thing ever. We typically buy a bottle (or three) of wine during the day to share, and then hot cider in the evening.
Prime Outlets. I am a sucker for some good outlets and these do not disappoint. They have Under Armor, Kate Spade, Gap and so many more. Also a pretty great food court.
Jamestown Settlement. While I have not been here in several years, we always had a great time. There are several areas to walk around throughout the plantation, and a great water view with huge boats.
A few other things to check out would be Great Wolf Lodge, Water Country USA and the Pottery.
Have you ever been to Williamsburg? What is your favorite part?